Best Free Membership Management Software
July 30, 2019
Membership management software is very important to any business, especially in childcare services. They help you save time and money while adding extra layers of security and reliability to your operations. Membership management software helps you automate repetitive and administrative tasks. You no longer have to spend valuable time chugging through paperwork, you can now focus on your core childcare business. In this article, we will be going over the best free membership management software for childcare centers.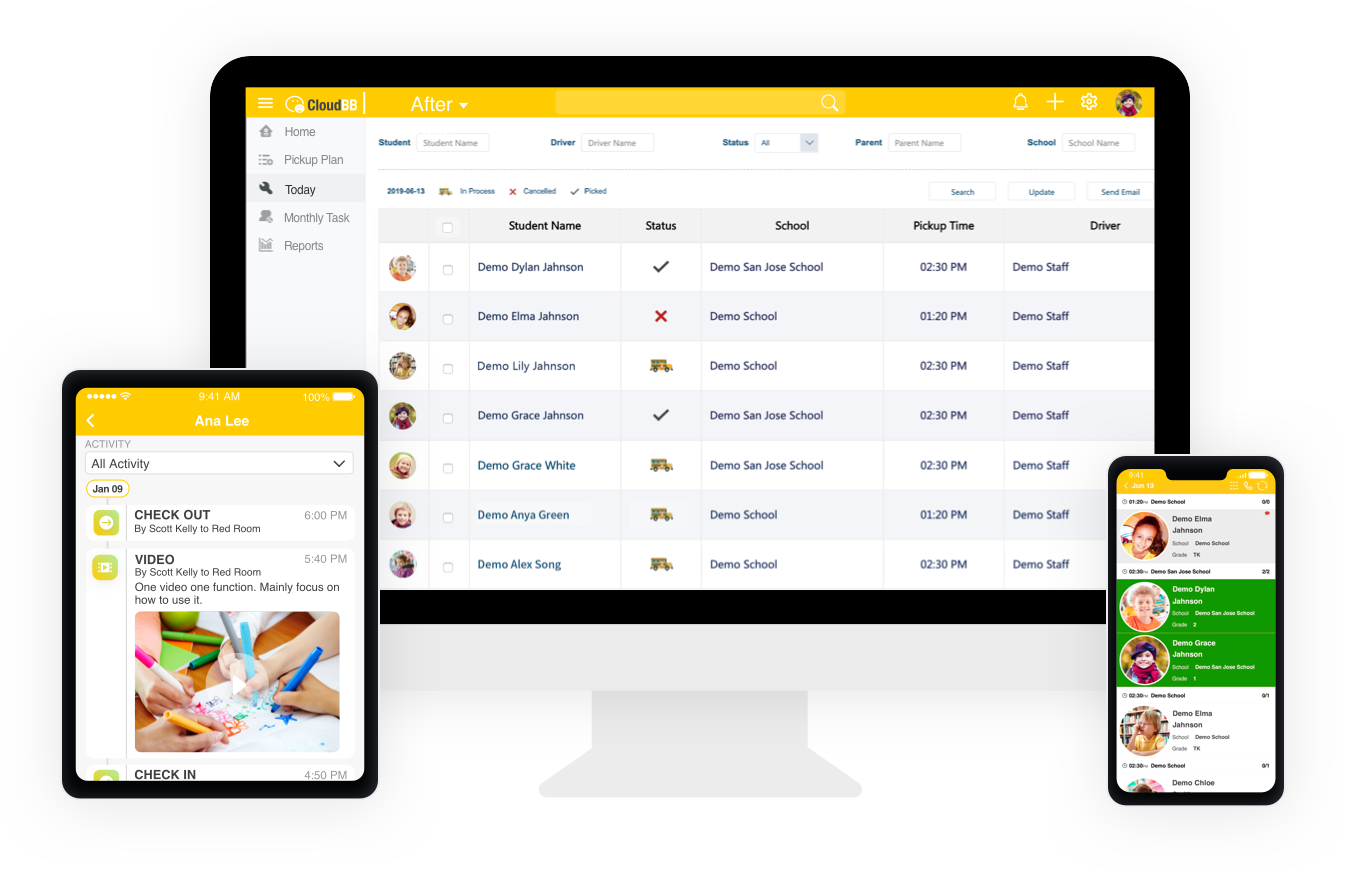 Best Free Membership Management Software
Effective Online Registration Form

Secure Student Pickup System

Digital Attendance Tracking

Easy Invoicing & Daily Activities Sharing

Reliable Open House Planning
Start Free Trial
1. CloudBB
CloudBB is one of the best creative child care solutions around. It is a cloud-based system tailor-made to help childcare services manage their registration process, schedule pickups for kids and monitor when members check in-out. CloudBB provides an all-in-one platform that can drastically improve your efficiency. The best part is that you get to use the software in all its glory for a whole month without paying a dime.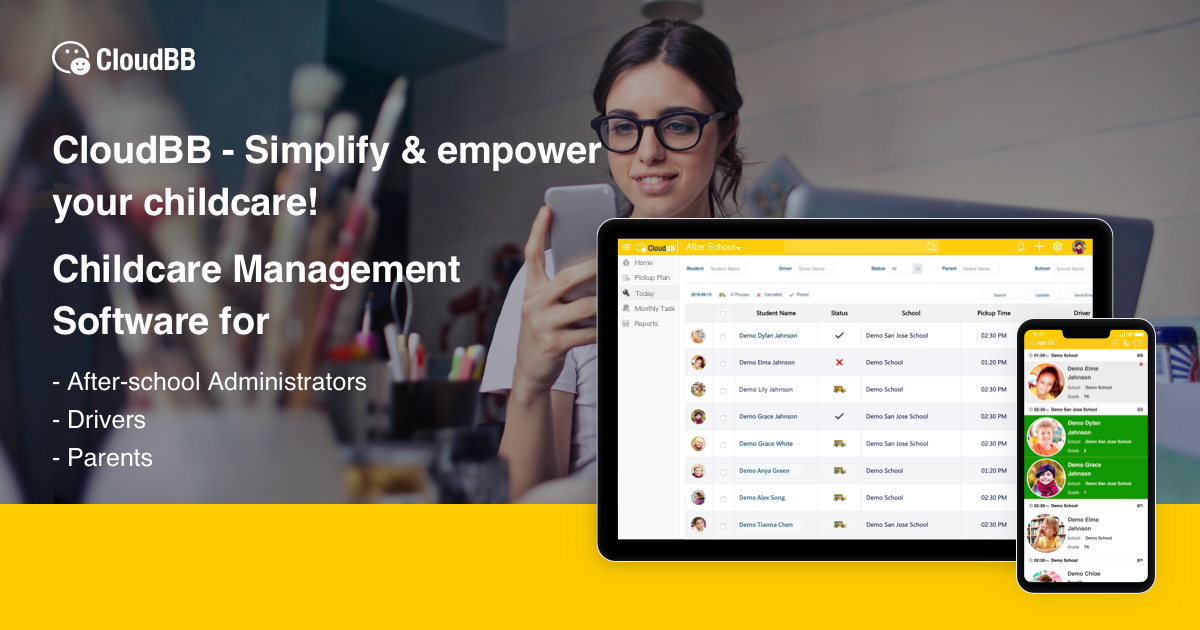 Key Features
1. CloudBB makes the process of acquiring new customers a breeze. Parents who want to register their kids to your service can easily do so online, owing to CloudBB's powerful and easy-to-integrate online forms.
2. You no longer have to play the guessing game, as CloudBB keeps a comprehensive record of attendance. You can always tell who showed up and who didn't. This information helps you to accurately bill your clients for the service they need.
3. CloudBB handles ALL your payment needs. CloudBB helps you automate your childcare invoicing , receive payments, set up recurring payments and notify your clients of any outstanding payments.
4. CloudBB customer support team works 24/7 and is available at any time to help you resolve any issues you may encounter. You probably won't be needing customer support because CloudBB is tested and guaranteed to perform.
5. CloudBB comes with a bunch of powerful marketing features like open house planning, helping you acquire more customers. Using the CloudBB software, you can set up campaigns and monitor how they perform and then adjust your strategies for better conversion.
6. If you run a pickup service , CloudBB makes it easy for you to manage a fleet of drivers. You can easily send updates to both drivers and parents all in real time even via mobile devices.
2. BrightWheel
BrightWheel provides a free childcare management system for daycares, preschools, camps, and other childcare organizations. Using BrightWheel, administrators can easily assess the kids, communicate with parents, set up payments and lots more.
Key Features
1. BrightWheel keeps a comprehensive digital attendance, parents can digitally sign in their kids when they drop them off.
2. Teachers can share moments with parents through pictures.
3. BrightWheel provides secure storage for parents and kids information.
4. BrightWheel lets you monitor the progress of the kids by providing comprehensive reports.
5. You get comprehensive daily reports that contain notes, images, videos. There is also a record of any mishaps that occurred during the day.
3. Kaymbu
Kaymbu strives to connect families by providing a software solution with awesome sharing capabilities. Childcare administrators can share photos, videos and documents with parents, parents can access them on the go using a mobile app. Sweet!
Key Features
1. Kaymbu lets tutors share notable moments from the preschool classroom straight to the parents. All in a private messaging interface.
2. Kaymbu provides systems to help track student development and then share important information (milestones) with parents.
3. Kaymbu lets you create yearbooks, student portfolio, school portraits out of the images taken during class.
4. Administrators send from within the Kaymbu software send broadcast messages to all the members of their staff.
4. Kinderlime
Kinderlime is designed with the small and medium scale childcare service provider in mind. It is very easy and intuitive to use. It aims to eliminate the hassles of dealing with paperwork to get basic administrative tasks done. The ability to send images to parents, record nap times, meals, diaper changes, electronic sign in-out functionality, and track employees' time on the job makes Kinderlime one of the best childcare management software out there.
Key Features
1. You get 24/7 customer support.
2. Parents get access to photos and videos detailing the activities of the day.
3. Parents digitally sign in and sign out their kids when they drop them off or pick them up.
Benefits of Using Such Best Free Membership Management Software
Still on the fence as to whether to adopt a membership management software. Here are some reasons why getting one is a no-brainer.
1. It saves you time and money
Using a membership management system saves you time and resources that would have been spent on administrative processes. It combines activities that would have been handled by different departments into one cohesive platform.
2. Parents get to be a part of kids' development.
Membership management systems give parents the ability to monitor how their kids are developing while they are at school. As a parent, if given the choice between being able to monitor your kids or being left in the dark, which would you go for?
3.Safe and Secure
The data shared on these platforms are safe from unauthorized access, unlike other web-based solutions.
From all evidence, nonprofit membership management software is an extremely valuable asset for any business that wants to optimize its processes and grow its business. They are no longer as expensive as they once were. You can get a membership management software for your business for free!
For TEACHER/DRIVER>> BB School App
For PARENT>> BB Parent App
Related Articles
How to Build Child Care Enrollment Forms
Top 6 Childcare Software Programs That Are Worth Trying