Top 6 Childcare Software Programs That Are Worth Trying
July 24, 2019
It is increasingly getting difficult for school managers and parents to stay connected effectively without the use of any of the available top childcare software programs. Especially for those managing a childcare center, we understand that there is plenty of energy and patience required. However, child care programs are available to enable effective communication and connection between parents and child care managers and staff for better child care management.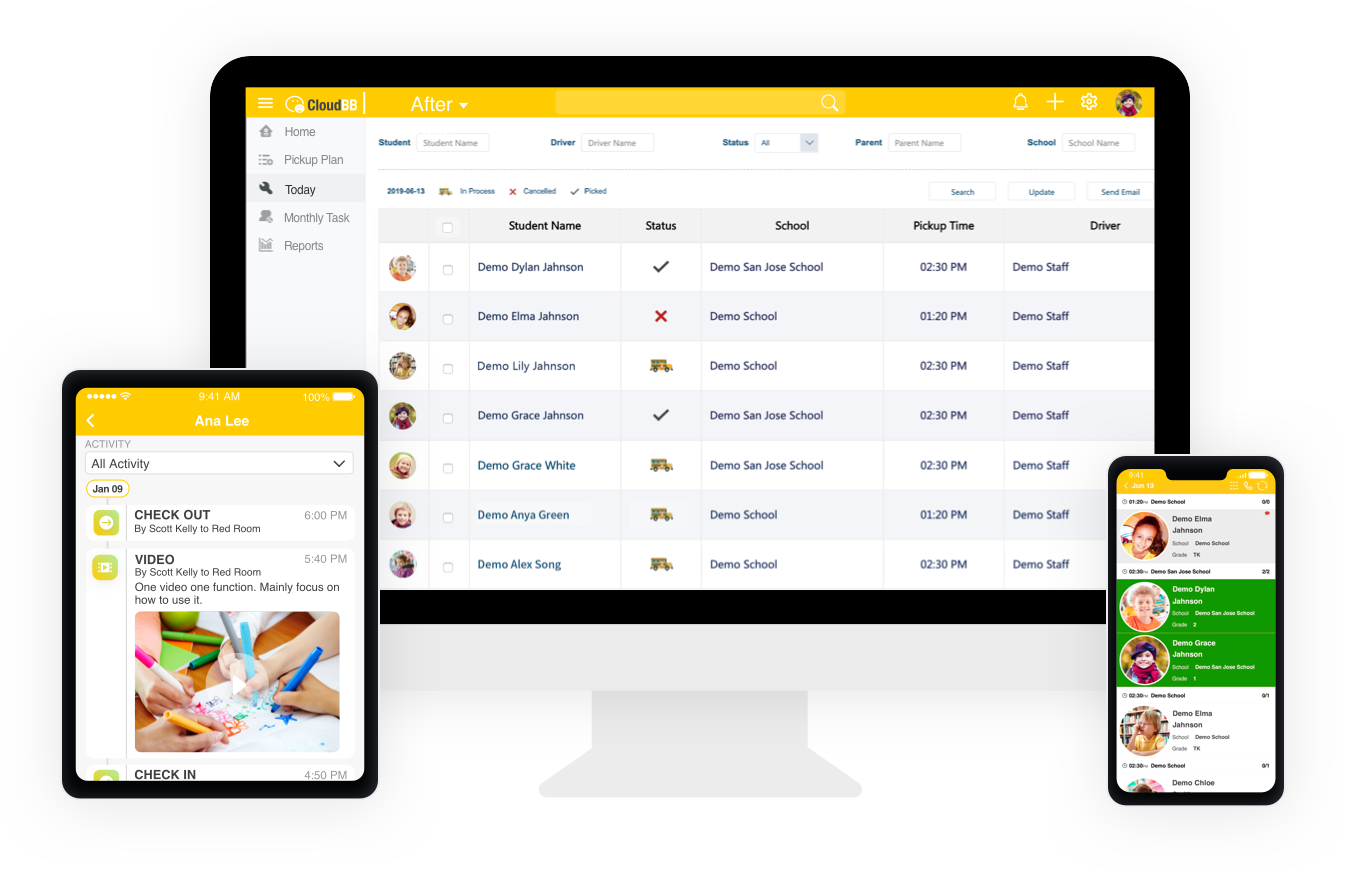 CloudBB- Top Childcare Software Program
Effective Online Registration Form

Secure Student Pickup System

Digital Attendance Tracking

Easy Invoicing & Daily Activities Sharing

Reliable Open House Planning
Start Free Trial
Top 6 Childcare Software Programs 2019
1. CloudBB
CloudBB is a cloud-based school management solution designed to help child-care centers and educational institutions with student check-in/check-out, driver picks up scheduling, student registration, etc. With this drop in childcare software, parents can view class listings, enroll children in different programs and enter contact information. Its powerful feature, after school pick up management, enables administrators to not only create schedules but also send notifications to parents and drivers via email and SMS. For drivers, they can use the mobile application for accessing different details including the students' number on their route and pick up timings.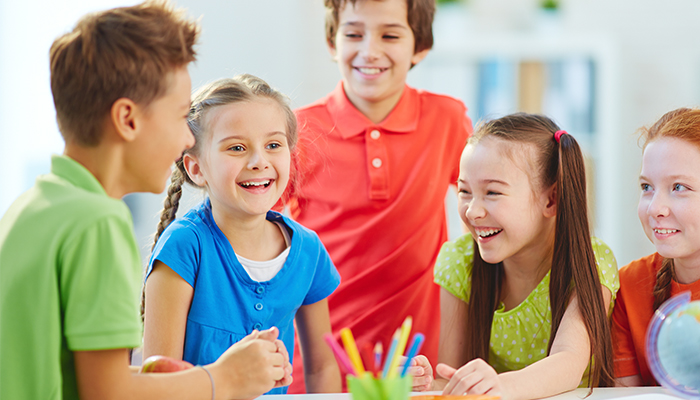 Features
I. Online registration- Registrations and enrollments have been made easy through the integration of your school website with registration forms.
II. Secure Pickup - Drivers can pick up all assigned students promptly because they can receive real-time changes.
III. Attendance tracking- Daily attendance information of students can be shared with parents.
IV. Marketing- Client information can be recorded for facilitating follow-up which is important for improving enrollments.
V. Parent connection - Possible to share precious moments and children activities with their parents.
VI. Invoicing plan- You can track payments, set up recurring tuition plans, etc.
VII. Check-In/Out- There is no need for the use of paper rosters.
VIII. Customer support via live chat and phone- You can be assisted in case you are experiencing issues with this tool.
IX. Customizable platform- Only a simple drag and drop function is involved in managing the information of your school. You can create workflows, rules, or fields just within a few minutes.
Pros
• Easy communication between parents and the school management
• Effective customer support available for people who encounter problems
• The platform is highly customizable to suit the unique business needs of a school
• Enables increased accountability of after school center
• Improved efficiency through the use of different features including the secure pickup process
2. Childcare Manager
This particular daycare management solution is a comprehensive solution. There is no need to buy and use different modules. It is organized into 8 integrated modules or sections catering to specific functions. The program is used for displaying all the names of employees, parents, and children.
Features
I. Child Center- Here you will find child lists, child tasks, and child reports
II. Employee Center- A central place for viewing and managing employee information including reports and performing employee-related tasks.
III. Family Center- A central place for viewing and managing family information and reports.
IV. My Center- A central place for viewing information concerning your center.
V. Report Center- Section for viewing your reports and report information and modifying and printing them.
VI. Lead Center- A place for organizing and managing leads of your center and marketing your childcare services .
Pros
• Easy to navigate platform
• All in one information tracking system
• Possible to backup and restore data
• Intuitively organized
• Possible for user privileges to be set up for data access
Cons
• Some of the features need to be improved including time calculation and notes on the staff
3. LifeCubby
This management solution for childcare is cloud-based and designed in detail for early education child care programs. It enables parents to track different updates in real-time and be able to stay connected all day with teachers.
Features
I. Billing and payments processing-Manage student tuition logs with recurring automated billing. Payments can be processed by credit card or ACH.
II. Family communication- There is live digital messaging which replaces the use of pen and paper.
III. Progress and assessments- There is an organized student portfolio for helping teachers with customized lesson planning.
IV. Lesson plans and calendars- Teachers and families can be informed in advance about future activities.
V. Share photos and videos- Teachers can capture learning moments and share them with parents.
Pros
• Enhanced communication tools
• Easy to learn and use the program
• The pricing plan is relatively affordable
• Supports integration with FunShine Online and ChildCare CRM to enable efficient working.
Cons
• Occasional slow app speeds and app freezes
• The features need improvement
4. Brightwheel
With this easy to use childcare management tool, it is possible to observe students, stay in touch with families, collect tuition, and manage classrooms. Different features provided by this tool are constantly updated to ensure that its users have effective and well-functioning family childcare software.
Features
I. Families engagement- Store and manage family contact details, message parents, schedule events and activities, etc.
II. Digital check-in- There is the use of digital signatures, quick scan, and secure pin codes for checking in students and staff.
III. Attendance reports- Run reports for billing, licensing, and management.
IV. Digital daily sheets- Automate daily reports with photos, videos, notes, and activities for families.
V. Center management- Manage student rosters and enrollment, payroll reports, immunization and allergy reports, etc.
Pros
• Billing and payment data is protected and encrypted by the highest security level
• Possible to capture real-time classroom moments
• Easy to use billing system
Cons
• Customer service may not be quick to respond
• Improvements in certain features need to be implemented
5. Kaymbu
Looking at the many different features of this classroom documentation and family engagement tool, you will understand how it strengthens school communities and makes learning visible through the empowerment of early childhood educators.
Features
• Photo sharing- Instantly engage parents with video and photos from the classroom.
• Documentation- It is possible to create stunning classroom documentation. You can create newsletters, portfolio, and learning stories.
• Messaging- Staff, and families can be alerted via SMS, email, and phone
• Assessment- Classroom observations must be aligned with the curriculum and framework assessment for tracking student development.
• Photobooks- Classroom observations can be converted into printed student portfolios, yearbooks, etc.
Pros
• Keeping track of a child's education is possible in a manner that is efficient and effective
• Automatic, private, and confidential publishing of reports
• The tool has an incredibly intuitive user-interface
Cons
• Challenge in implementing the use of the different features
• Draft photos do not disappear once sent to moments and this makes it hard to identify the draft photos saved in moments.
6. Procare Software
Procare software is also highly-reviewed and well-known software for childcare management. With its modular format, the users of this program can choose and use the particular modules they need. For example, when you use the core module of Family Data, you can automate administrative tasks and data collection.
Features
I. Procare Cloud- For safe data storage and access. Cloud users enjoy free childcare software updates and free web apps.
II. Automation of Tuition collection/payment with Tuition Express. The electronic payment collection is safe and secure and helps you save time and reduce paperwork.
III. Classroom management and Parent engagement- There are numerous electronic classroom management and parent engagement features designed for early education learning centers and childcare.
IV. Online parent portal- Parents can view child time cards and schedules, etc.
Pros
• Expert advice provided
• Top-notch customer support
Cons
• Pricey
Conclusion
In conclusion, having seen the different features, pros, and cons of the top childcare programs, the one you choose will depend on your particular needs. I recommend school managers to use CloudBB because of its numerous features and benefits.
Related Articles
What is Childcare Software and How Does It Work?
5 Best Free Childcare Software 2019