Top 5 Teacher-Parent Communication Apps for Better Childcare
October 2, 2019
Elementary schooling has a lot of intricacies and requires attention to details or information such as tuition fees, students' data, lessons child pick up time and others. When not handled properly, it can lead to a ripple effect of negative events. Most times when a breach in information occurs; difficulties in real-time communication between parents and teachers serve as the major contributing factor. Teacher-Parent Communication apps emerged as the remediable factor to this myriad of problems, helping teachers communicate with parents effectively and seamlessly. Some apps outperform on the market including: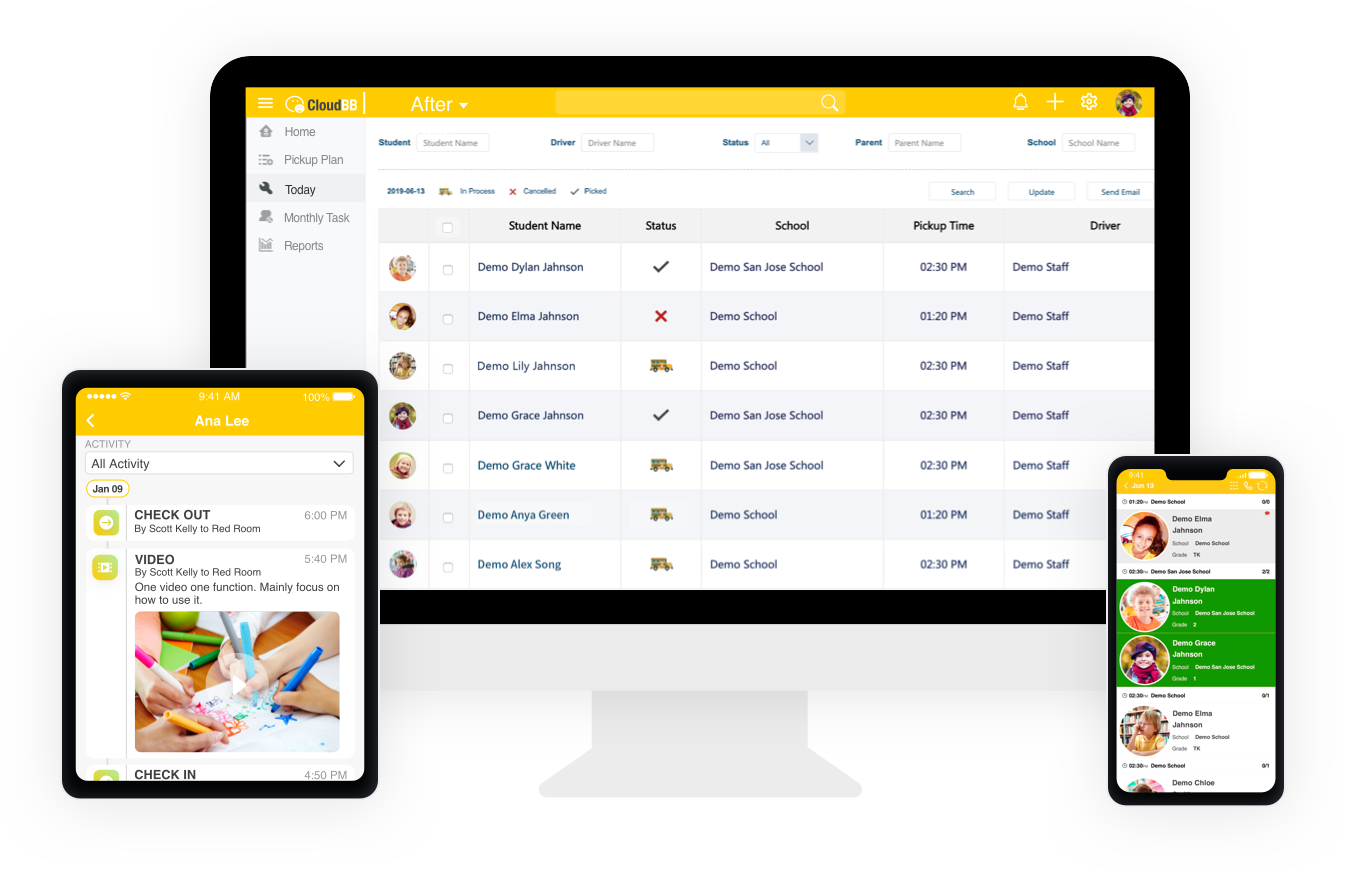 CloudBB- Top Teacher-Parent Communication App
Easy & Quick Message Communication

Real-Time Daily Activities Sharing

Secure Student Data Management

Digital Class & Pickup Tracking

Powerful Multi-Site Reports
Start Free Trial
They can act as school-parent communication apps to foster parent-teacher communication, with no need to make a complex modification to parent-teacher schedules. The apps operate with easy features that help in improving parent-teacher communication to a high degree.
• CloudBB
CloudBB is a multifunctional parent-teacher app that has helped to improve parent-teacher communication over the years by providing a platform for continual interaction between parents and teachers, for improved childcare. Its powerful features related to this include "Parent Connection" and "My School".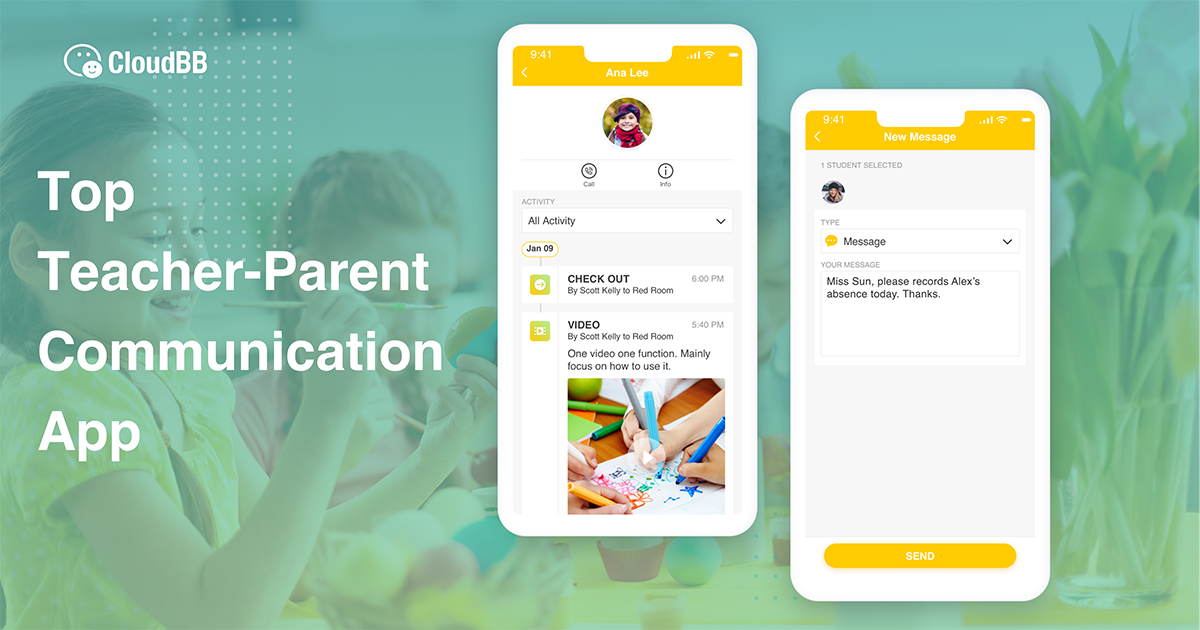 Parent Connection: It is a portal to connect families to their child's day, which keeps parents in the loop with their child's activities throughout the day by viewing real-time photos, videos, and notes posted by teachers. If the family has multiple children, add all children into CloudBB so that parents can switch schools to view children's activities within a few clicks easily. Furthermore, it is possible to share each child's precious moments with other family members.
My School: CloudBB takes pride in its all-in-one after school management solution which facilitates to manage all staff, student data, rooms, lessons, and much more merely in one place for after schools and childcare centers. You can track where students and staff are signed into, push classes on your online registration page , get accurate reports for pickups, attendances and more, assign various roles and profiles to staff, etc. More importantly, real-time changes can be sent to the school's driver to ensure that all assigned students are picked up promptly.
The features mentioned above allow for the management of staff-student data as well as effective control of lessons for afterschool and childcare centers. Stakeholders can monitor this activity from anywhere without any form of hassle or struggles.
• Bloomz
Bloomz is an effective teacher parent communication app that helps teachers, schools, and parent communicate effortlessly. Parents and teachers can communicate and coordinate activities through calls calendar and reminders, parent-teacher conferences, volunteer item signups, behavior tracking. Through daily quick updates, video sharing and photo upload, daily sheets and reports, a record of all activities like naps, potty meals and more are monitored on the go! This helps to save time and engage parents through streamline communication. Bloomz is top-rated because it is award-winning; year after year, it is nominated for awards which it wins. But some users reflect that Bloomz may not be easy for parents to navigate who struggle with manipulating digital technologies.
• Kinderlime
This parent communication app is an app that helps parents connect with teachers effortlessly. It provides easy childcare on a simple platform. Activities such as meals, naps, and so much more can be communicated between parents and teachers in real-time through this app. This is not all, the weekly curriculum can be planned while the students' progress is being tracked simultaneously. Waitlists can be managed through communication with the potential families and daily school administrative invoices and payments can be operated, managed and controlled through the effectiveness of the Kinderlime app.
• Brightwheel
Being a platform for early childhood education, Brightwheel school-parent app is effective in managing classrooms, observing students, collecting tuition, staying in touch with families all in one go. Licensing requirements can be met while automated invoicing , payment of bills, management of staff and track enrollment can be monitored as well. Parents and guardians can also keep up constant communication in real-time with teachers through messaging, videos, pictures and so much more. It is employed by a lot of school owners in an administrative function, to maximize time and achieve the best of results. Also, you run childcare centers and build a solid teacher-parent relationship with the Brightwheel app in a hassle-free way.
• HiMama
HiMama daycare app is also among the apps that help teachers communicate with parents. With this app, you don't need to engage so many papers in your daily administrative focus. Digital daily reports between childcare owners and parents are utilized. The digital daily sheet often includes meal times, naps, as well as other activities. Developmental observation with skills can also be effectively monitored through HiMama. This is not all, student billing, staff ratios, and management as well as real-time video and photo update are important aspects that are covered through HiMama. Learning stories and parent engagements are synchronized through the effective features of this app, providing a perfect medium of the relationship between parents and teachers.
Conclusion
Since communication in real-time involves live communication that occurs without transmission delays, it is almost near-instant with minimal latency. These preschool apps reviewed above has proven to be effective solutions, bridging the gap between lapses in communication between parents and teachers, thereby serving as the best teacher-parent app that you can trust. They simply help you go digital and embrace change, without the slightest discomfort, stress or hassle.
Related Articles
Top 6 Childcare App List That You Should Consider
Top 6 Parent Pick up App List for Secure Childcare