Top 6 Childcare App List That You Should Consider
September 23, 2019
The main purpose of child care is to provide a child an early start to a fulfilling life. While the systematic childcare management will help to provide a more positive and engaging environment for children in child care centers. How to achieve the perfect daily child care management? Here are several top childcare apps to make running after a good childcare much simpler.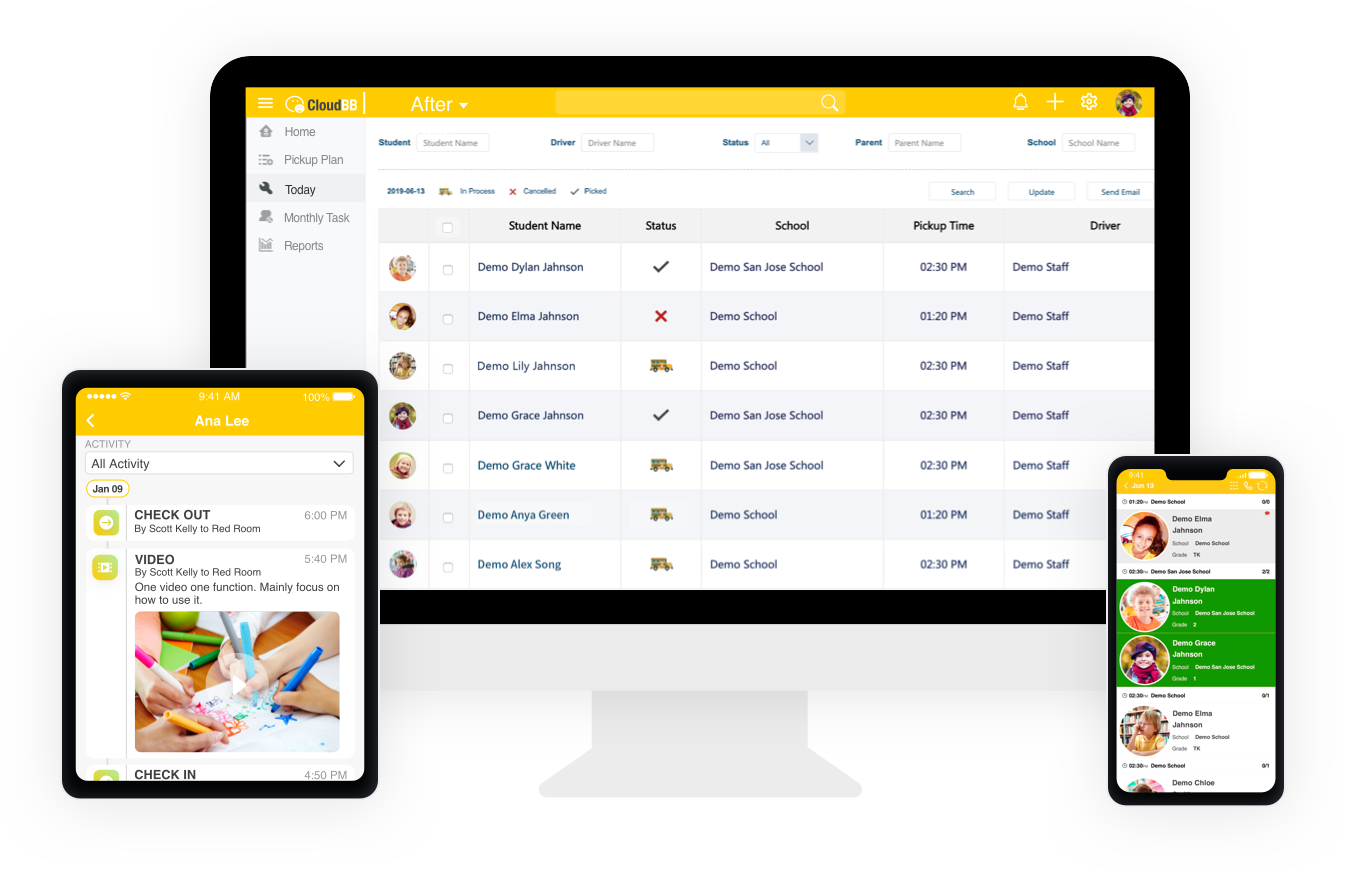 CloudBB- Top Childcare App
Effective Online Registration Form

Secure Student Pickup System

Digital Attendance Tracking

Easy Invoicing & Daily Activities Sharing

Reliable Open House Planning
Start Free Trial
Top 6 Childcare App List
1. CloudBB
CloudBB stands out from the top childcare app list, which is designed by educators for after school and childcare center educators in mind. They have an all-in-one management system, making the logistical nightmares associated with administrative after school management much more convenient and simple. A variety of features includes:
- It offers online registration where you can track all your enrollments in one place. You can track all enrollment information and data quickly.
- CloudBB comes with a secure student pickup system that shows the students' location and pickup time. You can also manage pickup plans and bell schedules.
- Secure and digital attendance tracking makes checking in and out much simpler. Student attendance can be visualized by staff, parents, and drivers. You can check in-out students securely and record absences and attendance details.
- They have automated invoicing and billing which will minimize the time spent on managing invoices. It offers a cloning tool that is able to reproduce invoices quickly. You can customize and set up invoices to students.
- CloudBB offers a portal that enables parents to connect with the students. You can keep parents up to date with the students' activities, videos and notes. School administrators can share photos and daily activities to the family.
- It offers an all-in-one management system , showing reports, assign roles to staffs, manage data, track students and staff, and class management.
- It offers marketing tools that will grow your business, such as analysis ROI, allows you to create multiple channels, plan open house, and digital open class to improve enrollment.
- The best thing about CloudBB is that it is a customizable platform that allows your to customize it to meet your specific needs. You can create and customize layouts and create new applications.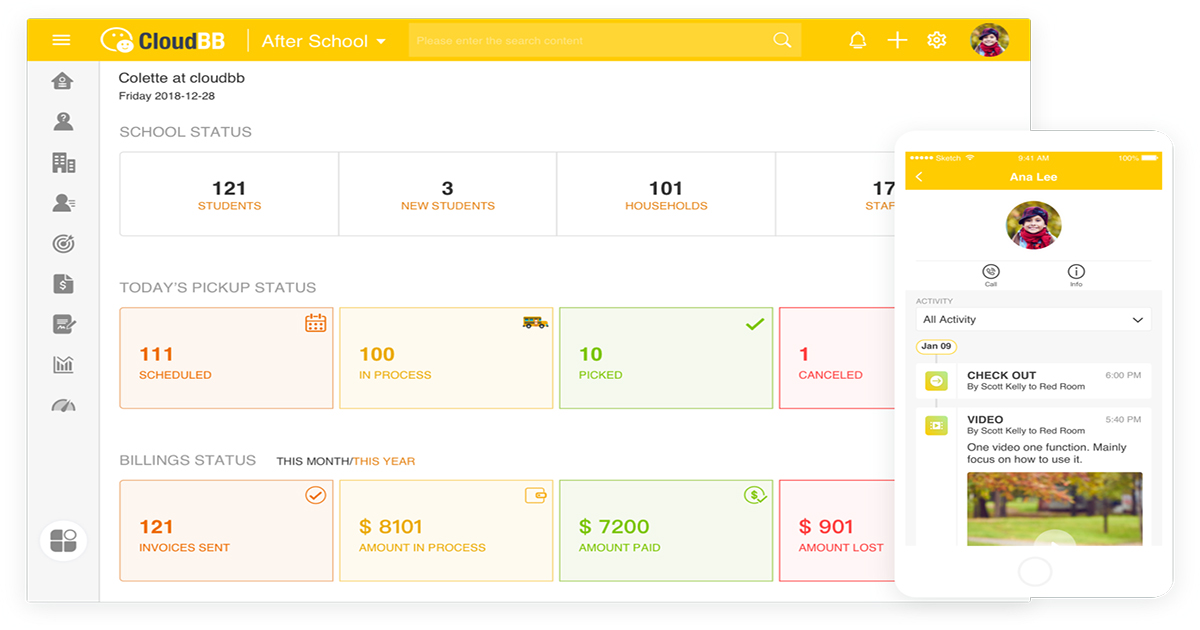 CloudBB will also allow you to try its free trial version for 30 days at no cost. As for the paid version, it only costs $0.83 monthly when billed annually. With all these features and affordable pricing plan, CloudBB is gaining more and more popularity currently among the best childcare apps on the market in 2019.
2. JackRabbit Care
Another childcare app on the list is JackRabbit Care. They offer a responsive and dependable childcare management software. JackRabbit Care will create more time for freedom by having a more automated billing and checking in or out process. They have an accessible dashboard that you can easily manage dates and data, such as financial info and birthdays. JackRabbit Care also offers a 30 day free trial and you have to pay $29 per month for 29 students max. The pricing plan will differ depending on your needs. Some reviews reflect that it is relatively expensive in the same trade.
3. Sandbox
Sandbox Software is probably one of the easiest child care provider apps to use. It renders a powerful management tool that will manage family profiles, send invoices automatically, receive payments and reports. The Sandbox Software has a monthly fee of $47 and you can cancel it anytime. The features that you get with the plan include family information, messaging, activity updates, automated invoicing, online payments, staffing, and photos and updates. You can try their program for free for the first 30 days.
4. Amilia
Amilia is another useful childcare daily app, which will help managing your organization and growing your business. Besides, it will help you to organize all your activities so that you don't have to worry about chasing payments or client information. Amilia also has an activity management software that is powerful and easy to use. They offer online payments, flexible scheduling and web marketing tools to grow your business. They provide accurate data from the from their powerful database. Amilia will cost $99 per month and you can also sign up for a 30 day free trial. But you can only enjoy limited features in the free trial version.
5. ChildCare CRM
ChildCare CRM is a daily childcare app that has been in the industry for a long time. Their software is designed for professional childcare and they offer products such as lead management and marketing information tools to further grow your business. They have a great childcare system that is powered by the latest and updated software technology. They offer wait list management, task management, membership management , text and email automation. As for the pricing plan, you may ask for a price inquiry via the email, which may cost your time.
6. After School App
After School App is quite different from the others. So what is AfterschoolApp? After School App advertises itself as a private message board for your school. This location based app serves like a digital message board which allows its users to post comments and messages. These messages can come in various forms such as pictures, regular text, and videos. It connects students with each other and great resources, like free crisis counseling, scholarship opportunities, social change campaigns, and more. It won lots of praises in the very beginning, but is gradually cast into the shade among the competitors as time goes by. Especially, some users are complaint about its security of photo sharing.
Conclusion
There are a variety of childcare apps available on the market, so you may be struggling with choosing which one. The top 6 childcare apps in 2019 mentioned above deserve your try for your needs. Despite all these the best childcare apps, CloudBB would definitely ranks first as it offers more powerful and systematic features than others, but coming in at an affordable price of less than $1 per month is an advantage to all the other apps.
Related Articles
Best Free Preschool App for Preschoolers
5 Best Free Childcare Software 2019