Is It Important to Use a Preschool Daily Behavior Report?
November 29, 2019
Accountability is a significant part of having and managing children. It is something that no one in the childcare business ever takes lightly, and neither should parents and any other stakeholder as well. While each preschool daily behavior report will help to keep everyone including childcare owners, teachers, parents and drivers in the loop about how the children perform and provide a simple way of ensuring accountability across the board.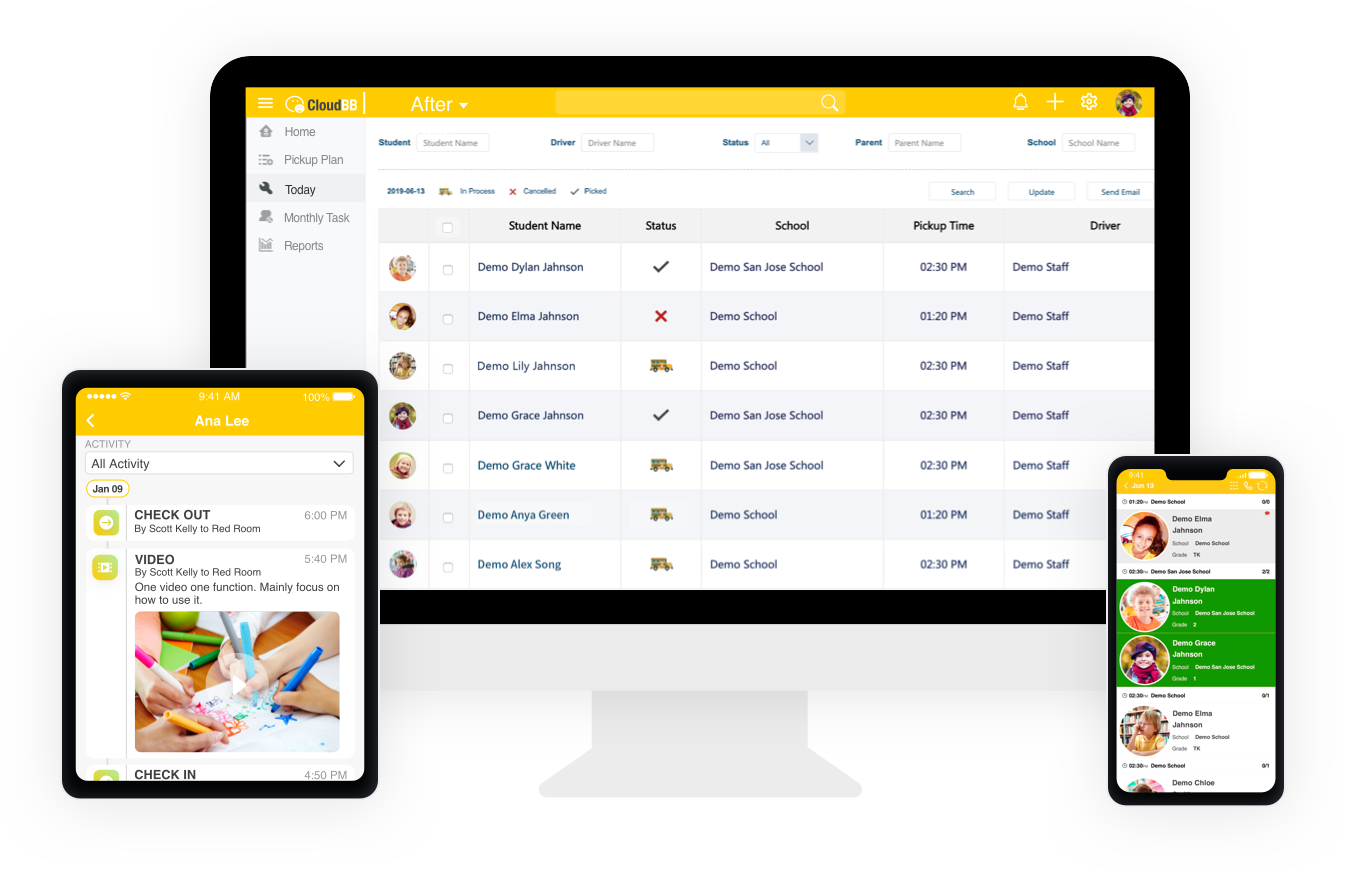 Best Tool for Preschool Daily Behavior Reports
Real-Time Attendance Reports

Secure Multi-Site Pickup Reports

Customizable Report Templates

Convenient Billing & Invoicing Report

Easy Daily Activities Reporting to Parents
Start Free Trial
Part 1: Is it important to use preschool daily behavior reports? Of course yes! Why? Continue to read.
Have a highly structured yet simple system for recording progress
Preschool daily reports are very important when it comes to the progress that children make while in school. With preschool daily behavior reports, parents and guardians have a clear view of the progress being made by their children, and they know how they can also help ensure that this progress is maintained over time. Since these parents don't get to be with the children during the day, the daily reports prove to be a proper way to ensure that they are always kept in the loop.
Notify parents when classwork/homework isn't being turned in
Preschool daily report sheets also serve to provide parents with a clear view of the academic performance of their children. Whenever they seem to be lagging behind or not filling up their quota at the school, parents will be notified and know they should focus more on their children when doing homework or other tasks at home.
Hold children accountable for their choices
The accountability principle must be taught to children as well. The children will make choices which may have consequences while at school. Then with preschool daily behavior reports that can record their choices, parents can understand the effects of the decisions their children take and how these decisions could play out in the long run. This also contributes to better children behavior and more brilliant development.
Keep documentation that you've notified parents about issues
Preschool daily behavior reports will also help establish a basis for good performance on your end. At the end of the school year, appraisals are being made, and it will be asked whether you were accountable to the parents concerning how their children behave throughout the year. By showing that you actually sent reports to the parents, you will be able to insulate yourself from any backlash. As the childcare center owner, you have a responsibility to be upfront with the parents you are working with. Preschool daily behavior reports prove proper proof of this.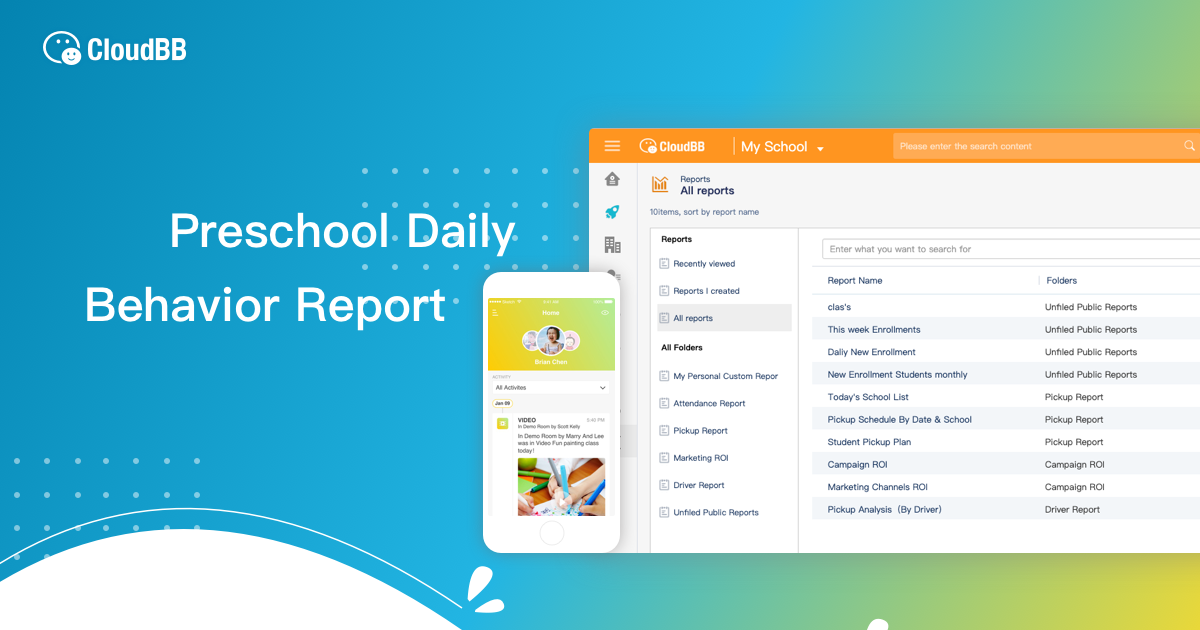 Part 2: Daily behavior report in preschool management is actually a lot of work. But the good news is that if done with the right tool properly, it can work!
CloudBB takes the accountability process very seriously, and this is why CloudBB has developed a dedicated portal to help ensure that teachers can send daily reports preschool renders directly to parents and get feedback.
Some of the accountability and reporting features available on the CloudBB platform include:
Attendance Report
It supports not only to record and manage absent records along with detailed notes, but also to track each student's total school hours with pickup status and attendance details. Then, the invoices can be generated and charges can be calculated based on actual pickup services, consumed class hours, and more.
School Behavior Report
Teachers and childcare center owners can have full control over relations with children and parents, serving as an avenue to handle every piece of data and keep track of preschool classroom management. Profiles and roles can be easily assigned to staff and relative preschool daily reports for parents can be sent out to keep them informed about the performance of their children.
Activity Reporting
CloudBB provides teachers with a dedicated portal to connect with parents and share reports concerning how their children are doing in school. Staff can invite parents pr other relevant members to be in the loop and discuss the performance of the child via instant messages based on the daily observation report for preschool. The portal also works in the case where parents have multiple children, as parents can switch between schools and teachers themselves can add children at will.
Pickup Report
The safety of children is something that CloudBB also takes very seriously. Synced with the calendar of the day and the attendance report , the secure pickup platform will generate multi-site reports of pickups. Schools can manage pickup payroll based on each driver's actual pickup task report; Drivers can complete pickup tasks effectively and reliably; Parents can view clearly and pay pickup fees based on the actual pickup report.
Report Template Customization
CloudBB is especially popular because it understands the uniqueness of every child and every parent. This is why the platform provides easy and seamless customization features to make each daily report for preschool template unique to themselves. There are various preschool daily report templates available. Stakeholders can rename fields to suit their needs, create new applications as they see fit, and automate daily work by developing workflows as well.
Conclusion
Are you ready to get rid of the complicated rules, routines, and procedures when dealing with each preschool daily behavior report? The secret to making it all work is to opt for the right tool for continuously smooth operation. You won't regret!
Related Articles
How to Use Preschool Daily Report Templates Properly?
Useful Preschool Behavior Management Strategies