What is Attendance Tracking Software and How Does It Work?
September 10, 2019
Tracking attendance is crucial in the operation of a childcare center. Safety of the children in custody of the childcare center is the first requirement of the center. However, the chaos of signing in and signing out is a major concern and the traditional way of tracking attendance can make childcare centers get caught in the middle of a custody dispute. It is essential to have an automated, pre-arranged way of tracking attendance, especially for the child's safety. That's why the attendance tracking software exists.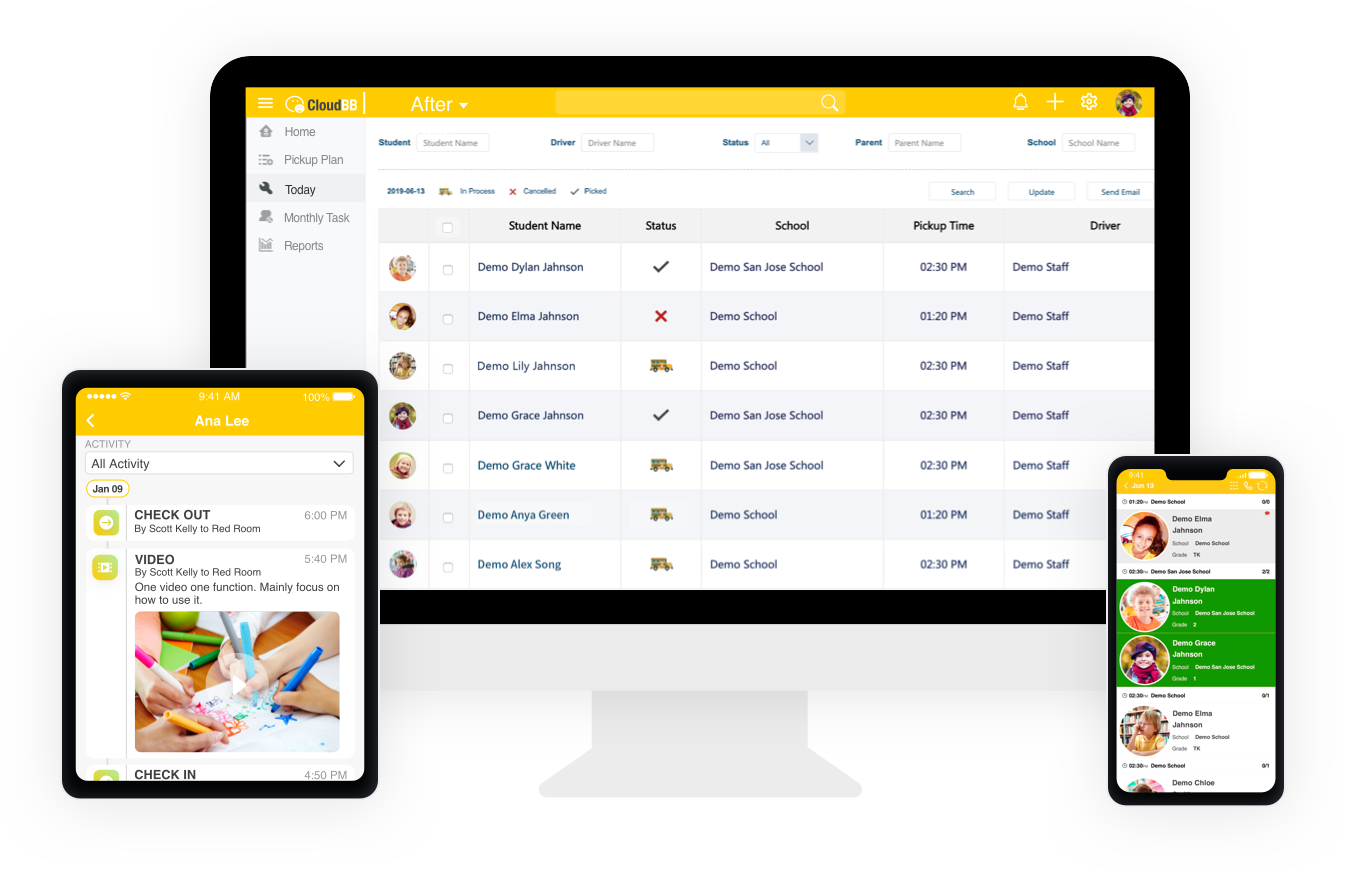 CloudBB- Best Attendance Tracking Software
Secure and Digital Attendance Tracking

Convenient Student Check in-out

Reliable Pickup Information Updates

Easy Classroom Activity Sharing

Powerful Multi-Site Reports
Start Free Trial
What is Attendance Tracking Software?
Have you ever been eager for a simple and convenient way to track attendance for your classroom or group? Well, now there's a way. Attendance Tracking Software is an online attendance tracker that helps you simplify the tedious task of keeping attendance. It automates this process so that human error stays out of the equation.
The attendance tracking software sometimes is one kind of the childcare software programs developed for managing childcare centers, preschools and early learning environments, from digital check in-out, real-time child's activities updates and sharing, to secure pickup management.
Some attendance tracking software like CloudBB is more than an attendance tracker, which can be also used as a child tracker by early childhood professionals to track a child's development, to communicate with parents, and manage the day do day running of activities and the staff.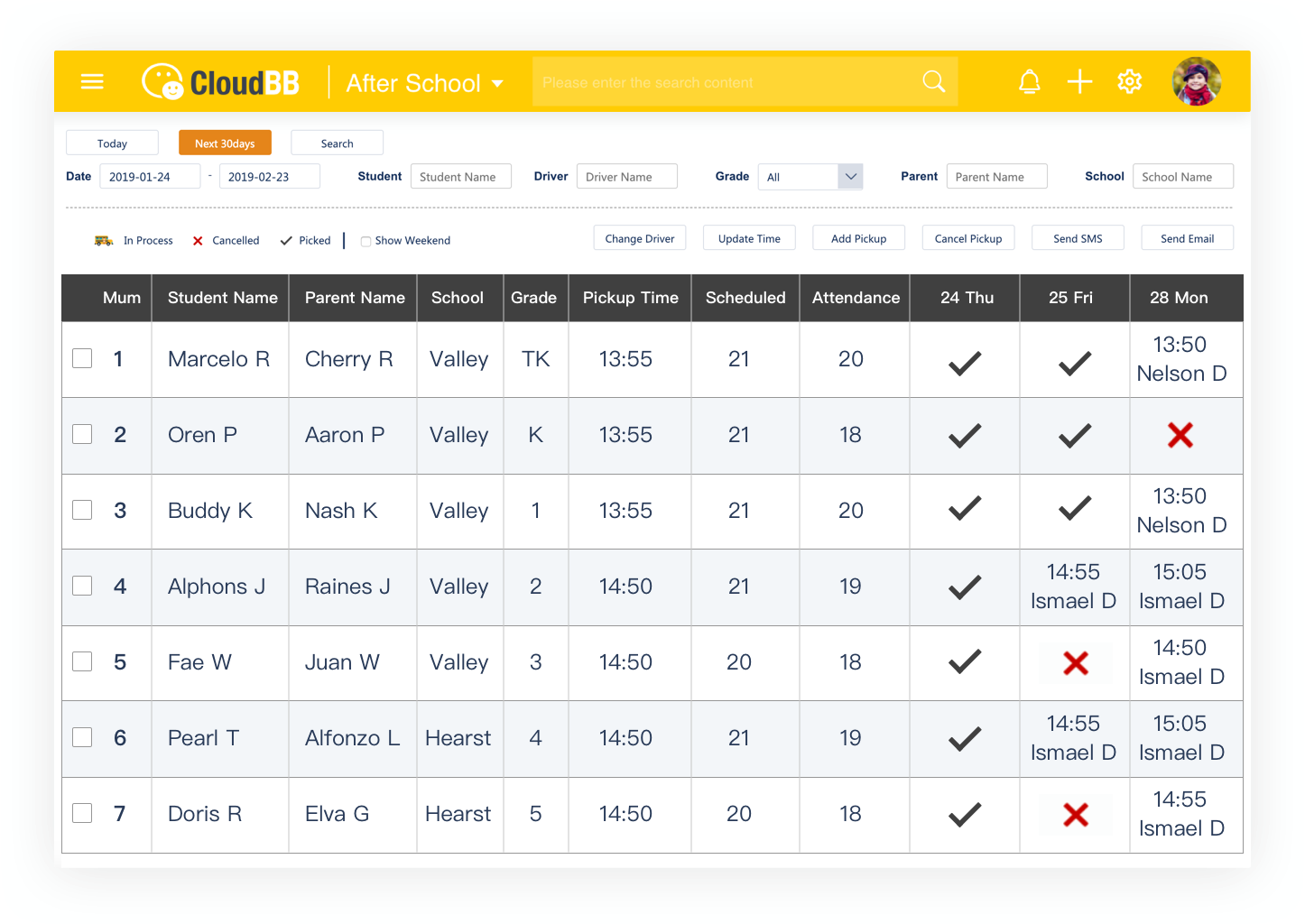 Benefits of Using Attendance Tracking Software
Safety and Security:The introduction of student attendance tracking software has improved the way childcare centers engage parents and guardians in a child's learning and development process. The software does all these while keeping their personal information secure and accurate to only parents, guardians and the educators.
The difference between centers that use attendance tracking software for schools as communication methods to parents and the ones that use websites/social media is the security and privacy of information. Other parent communication methods do not personalize information to the unique needs of a child; rather they monitor as a group, context of information is essential, and this is why it is important to get the specific information about a child so that the development and learning process will be unique.
Improves parent engagement: The early stage of a child's life is important, as this is the period in which the brain develops the most. Parents and childcare providers need to work together to ensure the best decisions are taken for the learning process of the child.A childcare software program with child tracker helps in this aspect, as it aids communication between parents and educators. Parents get specific updates about their child, and they stay informed about their child's needs.
Saves time:Parents work every day and have hectic schedules; it is the only time that the most parent has to communicate with educators is during a pick-up time, which is usually busy and hectic. During this period, it will be difficult to get quality and in-depth answers about a child's development and needs, as the childcare provider is also working so hard during check-in and check-out periods.
It allows educators to send updates on the child's development anytime, and they can do it when they are relaxed and can remember all important information. Also, parents can take their time to go through the reports without rushing.
Helps day-to-day planning: Keeping an accurate attendance record can help childcare providers plan their day-to-day and long term goals. It can help them track the student-to-teacher ratio and ensure they are not overspending or understaffed. Subsequently, it also helps childcare providers plan enrollment numbers for the coming years. Having an accurate record of the number of children in your center and the capacity you can handle will help you plan enrollment and marketing as a childcare provider.
How Does It Work?
Here we take an excellent childcare software program, CloudBB, as an example. CloudBB school attendance software is designed for after school and childcare center educators, which contributes to the effective running of day to day activities, as well as the safety of the children.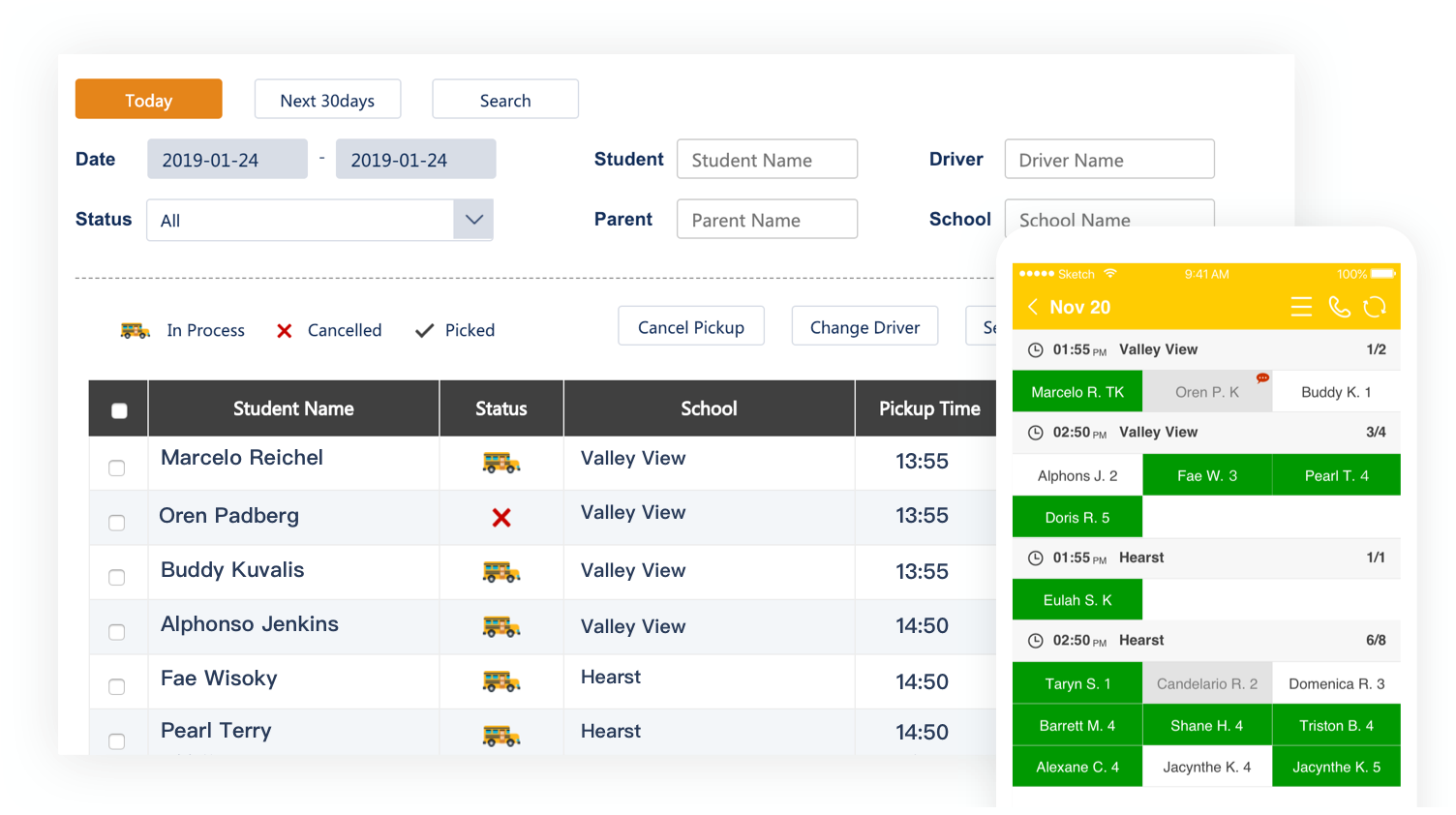 CloudBB helps to fasten the registration and enrollment process for preschool centers by minimizing enrollment data entry. It is more accessible to check-in and out with the app for parents and guardians of the preschoolers as they can complete check-ins while walking up to the center. All these lead to a smooth attendance tracking process. Besides, its secure student pickup system ensures that students are picked up safely and promptly.
For parents, the CloudBB childcare app helps you to keep a tab of your child's day, as the teachers can share student activities and precious moments through the CloudBB app. It is a good absence tracking software as you will hastily know if your child isn't present at school when you don't receive updates about your child.
For drivers, BB School app enables drivers to have on-the-go access to review their daily pickup task and the roster of students that require a pickup service for the day.
But how does attendance tracking software further ensure better childcare management from childcare centers?
Government Requirements
Attendance tracking is important for childcare centers as it is a requirement by the government. Some of the reasons why accurate attendance tracking is important to include:
Licensing: Childcare providers undergo a licensing audit from time to time. One of the crucial requirements in a licensing audit is an accurate attendance record. This is why it is important to keep an accurate day-to-day record of check-ins and outs of each child by their parents.
Transportation: If a childcare center offers to pick up and drop off services for the children, it is a legal requirement to keep an attendance record of each child before and after each trip.
Subsidized care: Some children have their care fee subsidized by the government, for this set of children; caregivers are required to keep a record of when they attend their center. Attendance tracking is compulsory for better security set up in a childcare center. Parents delegate the security of their children to the childcare givers for the period they are with them; this is why all measures must be taken to ensure that each child is secure.
Conclusion
Attendance tracking systems have become a necessary tool to own as a childcare provider. It helps the accuracy and efficiency of operation, while it also helps fulfill government requirements without having to go through stress. CloudBB childcare software is one of the trusted attendance tracking software you can find around. Apart from helping you track attendance, it also has an interface that you can customize to suit each of your other needs
Related Articles
How to Increase Your Preschool Enrollment?
How to Build Child Care Enrollment Forms