What is the Best School Management Software?
August 8, 2019
The world as we all know it has gone predominantly digital. Every aspect of our lives has been made much more efficient with computers. Hence it is only logical that education is not left out of the shift. Managing the affairs of a school has always been a daunting task with a pretty complex set of responsibilities.
Fortunately, these tasks can be digitized and organized by school management software that makes the job much more efficient.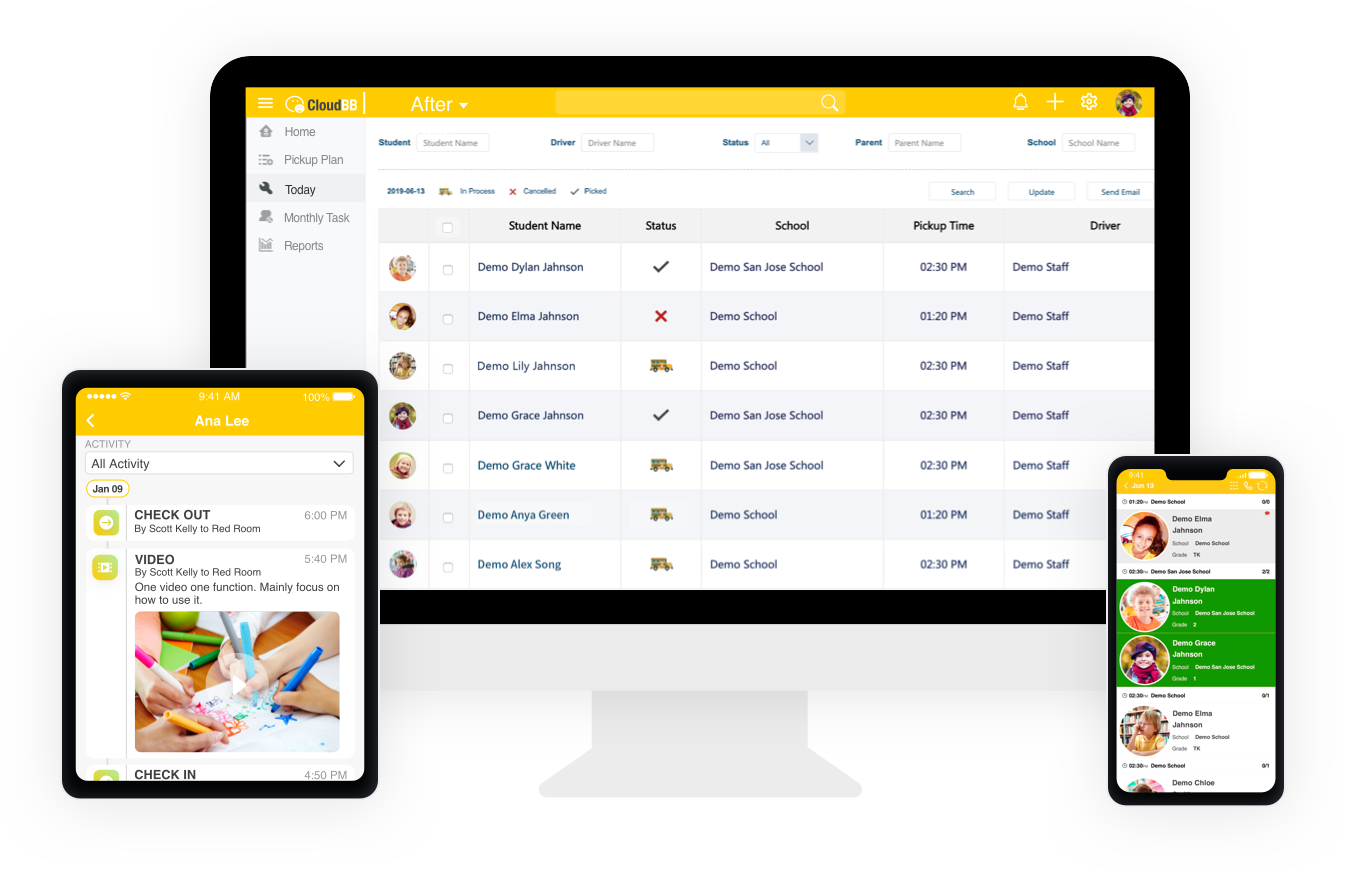 CloudBB- Best School Management Software
All-in-One School Management Solution

Secure Student Pickup System

Digital Classroom Tracking

Easy Invoicing & Daily Activities Sharing

Powerful Multi-Site Reports
Start Free Trial
What is school management software?
School management software like CloudBB is a digitized management system that serves as the main system for schools. It handles the administrative tasks as well as student information, attendance, and even examination management. School childcare management software makes the data management of the school administration a lot more efficient.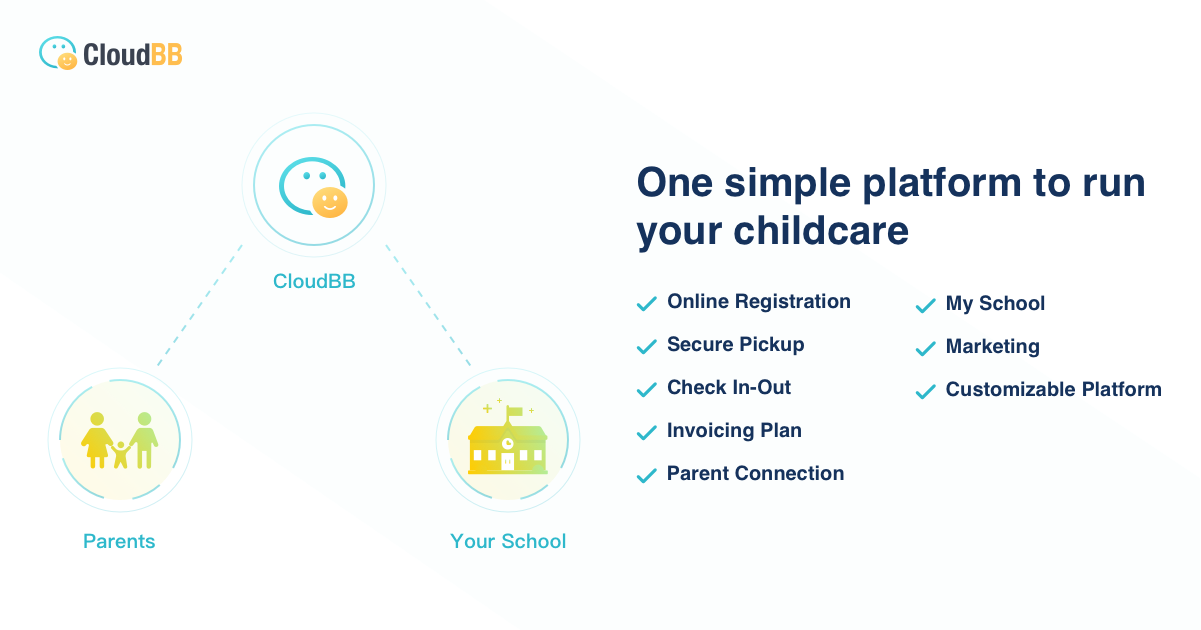 School Management Software Features
More and more pieces of school management software step into the market. But what can be called the best school management software? Here are some must-have features:
1) With the best school management software, any information about students, teachers, or administrative staff is available in just a few clicks.
2) School management software can be also integrated into every department of the school, from the library to the accounts to the students.
3) The aim of coordinating all the data from all the departments in the school is simply to ensure that parents, staff as well as students can assess relevant information like check in-out, invoices, photos, videos, etc. in real time.
4) Information like pick up plans can be synchronously updated by the teachers, while the parents/drivers can assess the plan and adjust their schedule.
What are the requirements to look out for in the best school management software?
1) Live Updates
The best school management software should always operate in real-time. This will help ensure that parents and drivers are aware of any changes to the schedule or pick-up plans right away. Teachers and other members of staff can compare the information a lot more easily without necessarily having to go through lengthy procedures.
2) Full Transparency
Parents should be able to assess information about their children from their mobile device at any time. The location of the children should also be featured on the platform. This will ensure that parents are aware of their child's location and are assured of their safety.
Being safe and secure enough definitely can not be ignored. The best school management software should ensure that all students are picked up promptly by authorized personnel only. Either parents or drivers can pick the children up. However, the other party should be informed of the pick-up to avoid any mix-up.
4) User-Friendly
The best school management software must be easy to navigate, edit and update. This will ensure that parents who aren't overly savvy can still take full advantage of the platform. Also, this makes it easier for teachers and all other members of staff to enter and update information without any help. This makes for a much more efficient system. Drivers too can easily assess the schedule and view any changes without any difficulty.
5) Ease of Customization
Customizing a school management software to be more tailored to your school's specification should be as easy as possible to enable authorized members of staff make required changes as at when needed. Since not everyone is familiar with coding, there should be no coding required to customize the software for schools management. This will ensure that customization is done quickly and easily.
What makes CloudBB the best school management software?
CloudBB is widely regarded as a hassle-free and reliable way to reduce administrative tasks and even increase parent satisfaction. CloudBB School App runs a more efficient after school set-up that is easy to get, easy to use and easy to engage. It provides a series of powerful features like online registration, recurring invoicing plans, enrollments, pick-up plans as well as parent and driver connection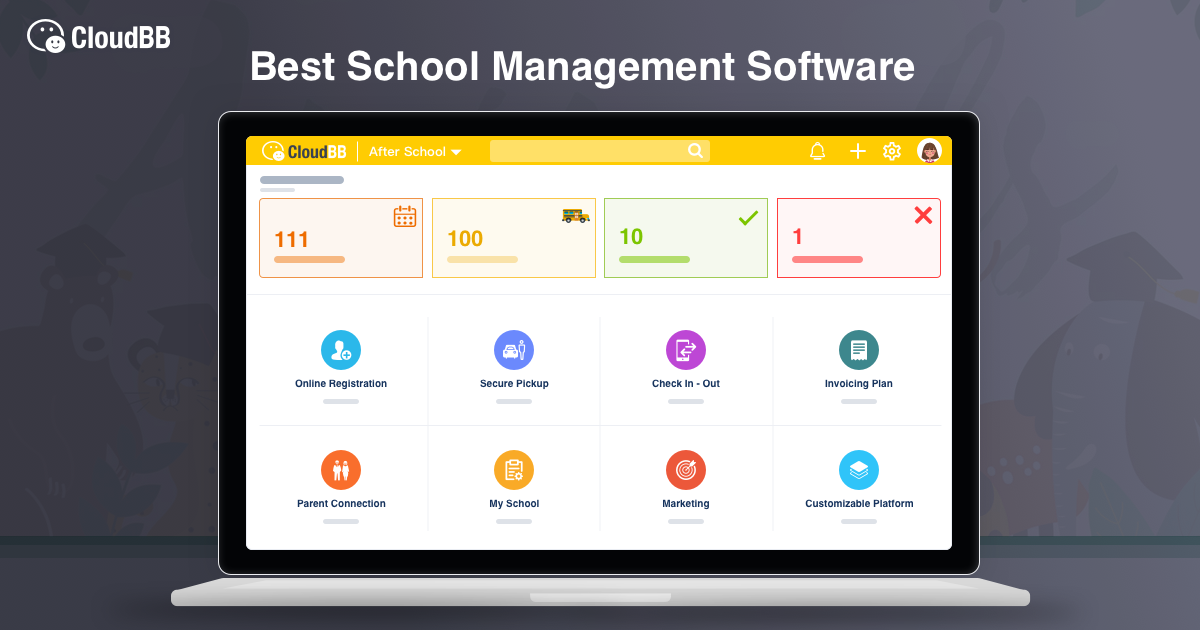 1) CloudBB platform is an all-in-one childcare and after school management solution with "My School" feature that can help to manage after schools, daycare centers and even summer camps. More can be reachable for various needs:
√ Manage all student, family, enrollment, and pickup plan data.
√ Assign rooms to track where students and staff are signed into.
√ Push classes on your online registration page for systematic class management.
√ Send reports for pickups, attendances, and more.
√ Assign different roles and profiles to staff.
2) CloudBB offers a secure student pick-up system. Any change to the status of a student made by authorized staff of the school can be assessed by the parents and driver seamlessly. This enables full transparency when carrying out the pickups so that parents can rest assured.
3) Parents can easily keep in the loop with the child's activities throughout the day by viewing real-time photos, videos and notes posted by teachers with such a fully comprehensive after-school solution. This contributes to mitigating the communication gap among the stakeholders.
4) CloudBB offers the freedom to tailor the platform to cater to your unique needs. Simply drag and drop applications to manage your school's information. You do not need any coding knowledge. Furthermore, you can build any number of customized online registration forms and display them on your school's website to boost preschool enrollment.
5) You can create and adjust recurring invoice plans to adapt to whatever new development may arise. CloudBB can also calculate tuition and pickup fees based on the attendance days instantly.
Related Articles
7 Best Childcare Management Software 2019
Why Do We Need Childcare Management Software?