4 Best School Management Software 2019
August 12, 2019
Early education providers and teachers are increasingly becoming aware of the benefits of using school management software. A school management system is more than just a technology application. It is an improved way of managing the daily activities of an educational establishment and making communication and connection among teachers, staff, parents and children easier.
Here are the best school management software for preschools, childcare centers and summer schools with detailed analysis.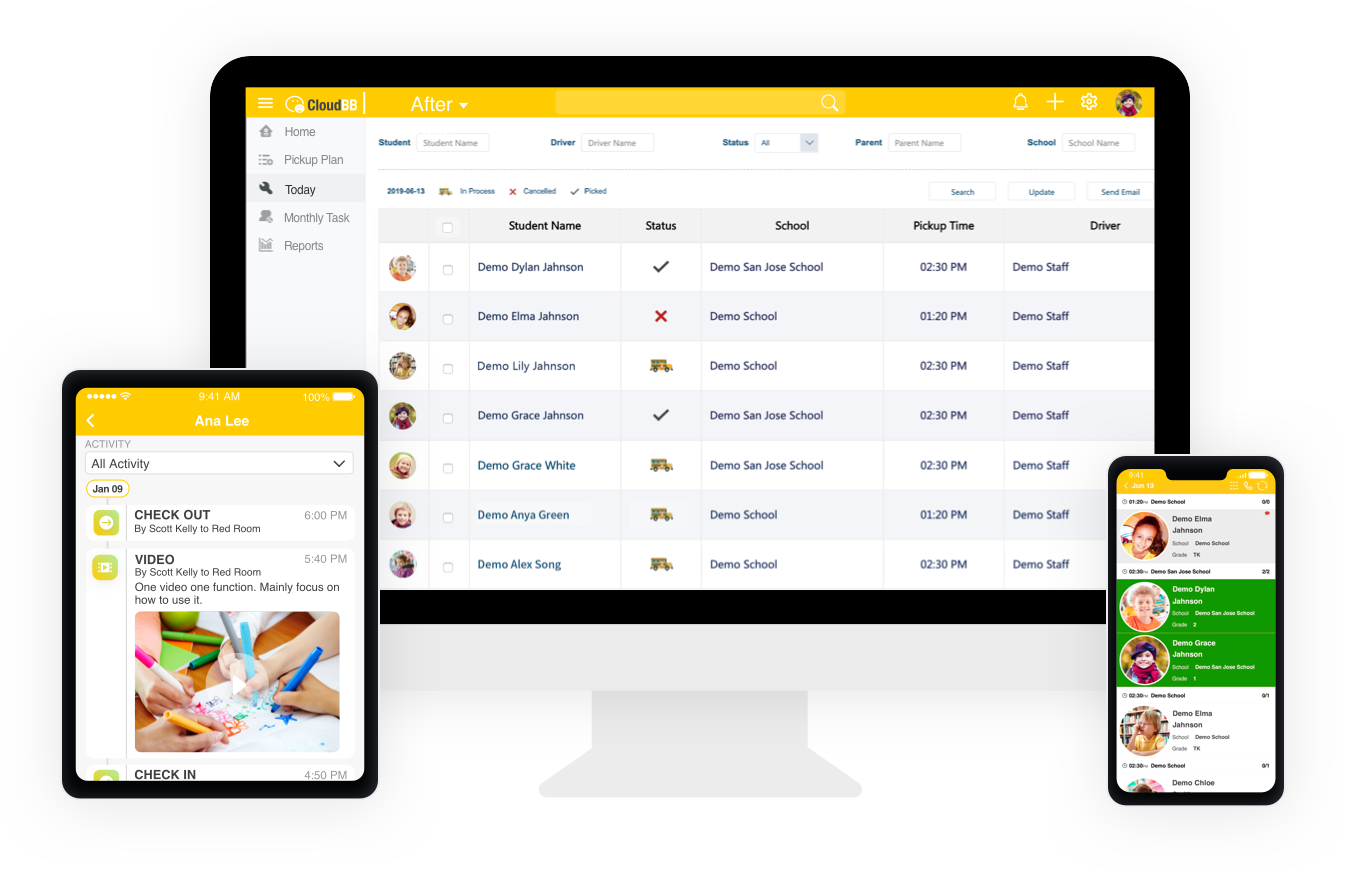 CloudBB- Best School Management Software
All-in-One School Management Solution

Secure Student Pickup System

Digital Classroom Tracking

Easy Invoicing & Daily Activities Sharing

Powerful Multi-Site Reports
Start Free Trial
1. Brightwheel
Features
i. Real-time newsfeed - teachers can take pictures during class and record daily activities (either in real-time or at day's end) and share with families. The real-time feeds help parents to get updates on their child's activities through photos and notes.
ii. Digital sign in-out for both students and staff - This feature allows parents to check their child in and out easily and more conveniently.
iii. Spot check feature for seamless attendance tracking - allows teachers to take quick headcounts while in the classroom. Administrators then use this data to review class attendance reports for billing, licensing, and other management uses.
iv. Autopay - parents can opt to use autopay to save on transaction charges and reduce the overall cost of education or after school care for their children.
v. Paperless school management - Brightwheel is one of the best school management software for digital child assessments, online enrollment, automated reporting, robust parent communications, paperless billing, and safe pick up and drop off. It allows you to avoid the pain of manual work so that you can focus more on improving the learning experiences of the children.
| Pros | Cons |
| --- | --- |
| i. Easier childcare management of student attendance | i. There's no way for the director to message staff members collectively |
| ii. Teachers find it super easy to use in classroom | ii. Teachers cannot upload photos from a computer to the app |
| iii. The app makes communication between teachers and parents quick and more effective | iii. The app requires Wi-Fi to function, which means it can be a hassle on field trips or other outings |
| iv. It's easier to keep track of student attendance and absences | |
| v. Live feeds can help parents who need to keep up with their child's eating | |
| vi. The calendar keeps everyone updated on important dates | |
Brightwheel Pricing
Brightwheel is a subscription-based system. The package you choose depends on the number of students and number of locations. Pricing ranges from around $40 to $200 per month. Brightwheel also offers a 30-day trial.
2. Sawyer
Sawyer was developed by and for children's activity providers. It is perfect for children's class providers, after school programs, development classes and camps geared towards children and families.
Sawyer School Management Software Features
i. Sawyer software for schools management with unique customization features makes it suitable for a wide variety of users.
ii. Scheduling, messaging, and making online payments is seamless with this school management software.
iii. Powerful scheduling tools help admins to plan activities better and automate tasks such as classroom and camp management, online registration and invoice processing, instant communication with parents.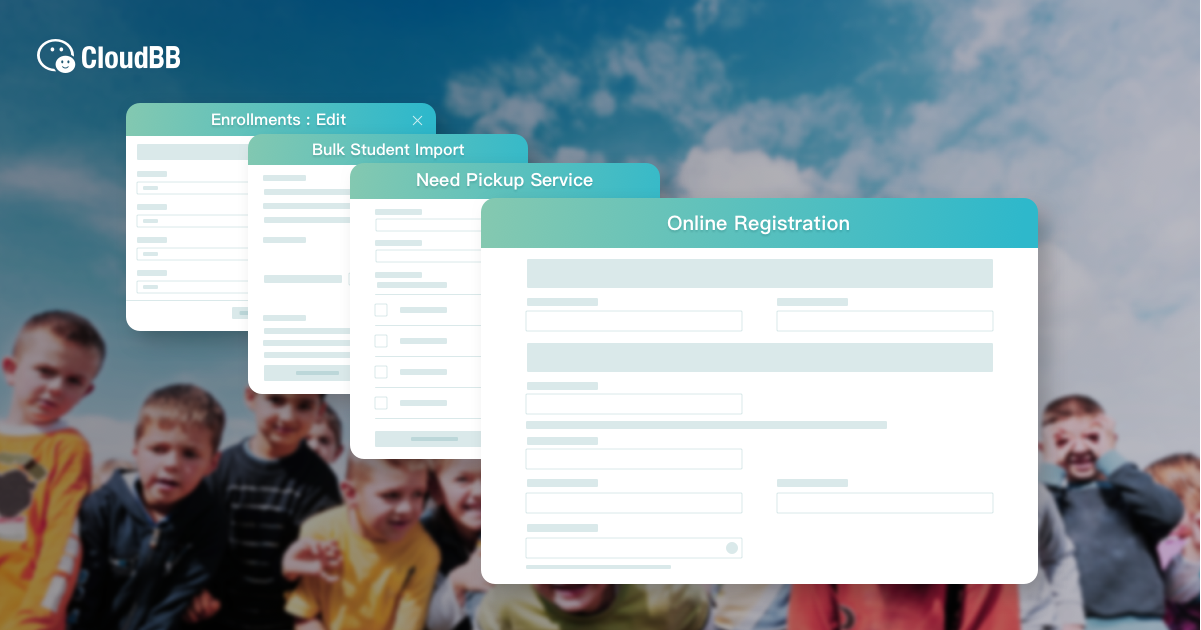 | Pros | Cons |
| --- | --- |
| i. Easy to use. All parents even with no technical knowledge can navigate it. | i. Some users do not like the way the system outputs data on an excel spreadsheet. |
| ii. The innovative user interface makes scheduling for after school enrichment programs and summer camps so easy. | ii. It can be frustrating to make class scheduling changes while some users need to ask for customer support several times. |
| iii. Pleasant child enrollment experience | |
| iv. Parents can view available drop-in classes for local activities, schedule an entire semester, read reviews, and pay for everything via Sawyer. | |
| v. The app syncs with parent's Google or Apple calendar and populates their schedule with their kid's school activities. | |
Sawyer Pricing
The starting price is $0.01/month and pricing is a per transaction fee. You get a free demo, training, and support.
3. CloudBB
CloudBB wins a place as the best school management software. It is a secure and organized cloud-based childcare and after school management system, which comes with a lot of excellent features to run your childcare and afterschool program in the new efficient way. It helps with student registration, class enrollment, student check in-out, driver pick up scheduling, etc.
CloudBB Features
i. "My School" feature is available to help manage after schools, daycare centers and even summer camps. You can:
a) Manage all student, family, enrollment and pickup plan data efficiently.
b) Assign rooms to track where students and staff are signed into effectively.
c) Push classes on your online registration page for systematic class management as you want.
d) Send useful reports for pickups, attendances and more easily.
e) Assign different roles and profiles to staff flexibly.
ii.The digitized check in-out feature helps to keep tabs on students in school and in after school locations.
iii.Its parent portal makes it possible to enter their contact details, view class listings and enroll their children for relevant programs.
iv.Administrators can use the student pickup functionality to create pick-up schedules and automatically send notifications to drivers and parents through SMS and email. The software also features attendance tracking, reporting, and marketing functionalities.
v.Online registration provides a reliable way to track all your enrollments in one place. Convert and track them until they have enrolled.
vi.CloudBB empowers to create personalized items and tailor your invoice to specific schedules. Minimize data entry by reproducing invoice plans.
vii.CloudBB allows for deep customization when creating daily, weekly or monthly schedules. Additionally, the "open house" feature helps to improve enrollment volume by capturing more students in the enrollment wait list.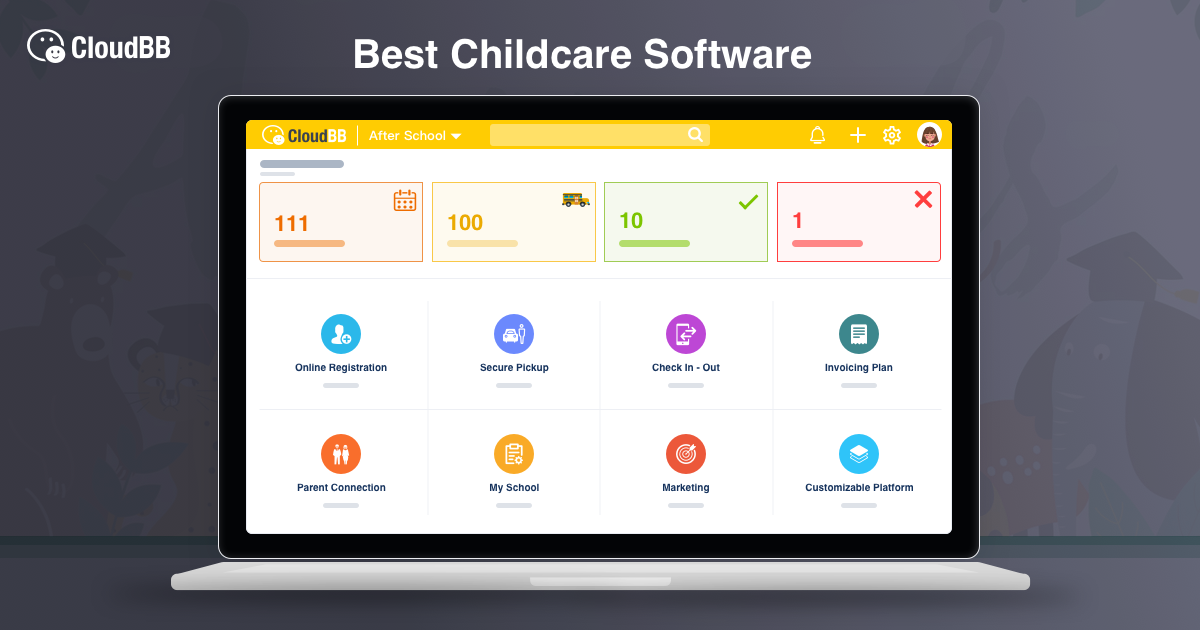 Pros
i. Platform is customizable to each school's needs.
ii. Digitized pickup and check in-out
iii. Fully automated invoicing plans
iv. Very secure and easy-to-use mobile-friendly platform
v. Enables easy and more effective communication with different groups
vi. Automates the tracking process of school transport
vii. CloudBB provides timely support via live chat and phone. Tech support is almost always helpful and quick to respond.
viii. More dedicated apps for different stakeholders - schools (BB School App) and parents (BB Parent App)
ix. Both free trial with multiple practical features and paid version with extremely cost-effective price.
CloudBB Pricing
Pricing plans range from $1.50 per student per month for 20-100 students to $0.70 per student per month for over 1000 students. You can also try a FREE DEMO or free sign up for a 30-day trial to help you see whether the software can offer what you need.
4. Smartcare
If you are searching for a top-ranked cloud-based child care system, Smartcare is such a platform that connects parents and the childcare center in real-time. The web-based and mobile-friendly interface enables highly optimized child care and collaboration between parents and care providers.
Features
i.All-in-one child care center management - the app allows you to track a child's attendance, educational progress, meals, and even immunization and allergy history.
ii.Parents can track child's activities in real-time using videos and photos.
iii.Child and family tracking - this feature helps to store family contact details and monitor the child's progress. It is also important for billing purposes.
iv.Important alerts - including staff and child arrival/departure alerts, scheduled pickup alerts, mission critical messages, real-time feeds for parents, child birthday alerts, and so on.
v.Automated reporting - parents, teachers, administrators, and directors can create specific reports from their portals.
vi.Sign in/out with electronic signature for children and staff

| Pros | Cons |
| --- | --- |
| i. It enlivens your team with leading education and child care technology | i. Lacks pre-populated timeline items for older students hence works best only for daycares |
| ii. Enhances effective engagement with parents | ii. Users have to do a lot of remedial work using spreadsheets |
| iii. Staff can clock in and out, and can only access the school's resources when workings | |
| iv. The layout looks great and is more modern | |
| v. Easy billing and payment process | |
Smartcare Pricing
Smartcare uses subscription-based pricing. The company currently offers a special pricing of $99/month for centers with more than 20 students. A kiosk is included in this pricing plan. Directors can set up customized weekly and monthly billing for their customers.
Conclusion
According to the school management software reviews, many users regard them as the best school management software in 2019. CloudBB scores the highest points in most features compared to other school management software. With CloudBB, you are sure to use technology effectively to reduce administrative tasks, run the school better and improve your staff's quality of life.
Related Articles
Why Do We Need Childcare Management Software?