CloudBB Software Was Launched to Help Better Manage and Organize Childcare
July 23, 2019
We, as the leading provider of childcare management solutions, had released CloudBB- the ultimate childcare app to handle many of the logistical nightmares that were often associated with administrative after school management, which has received considerable praises for a long time.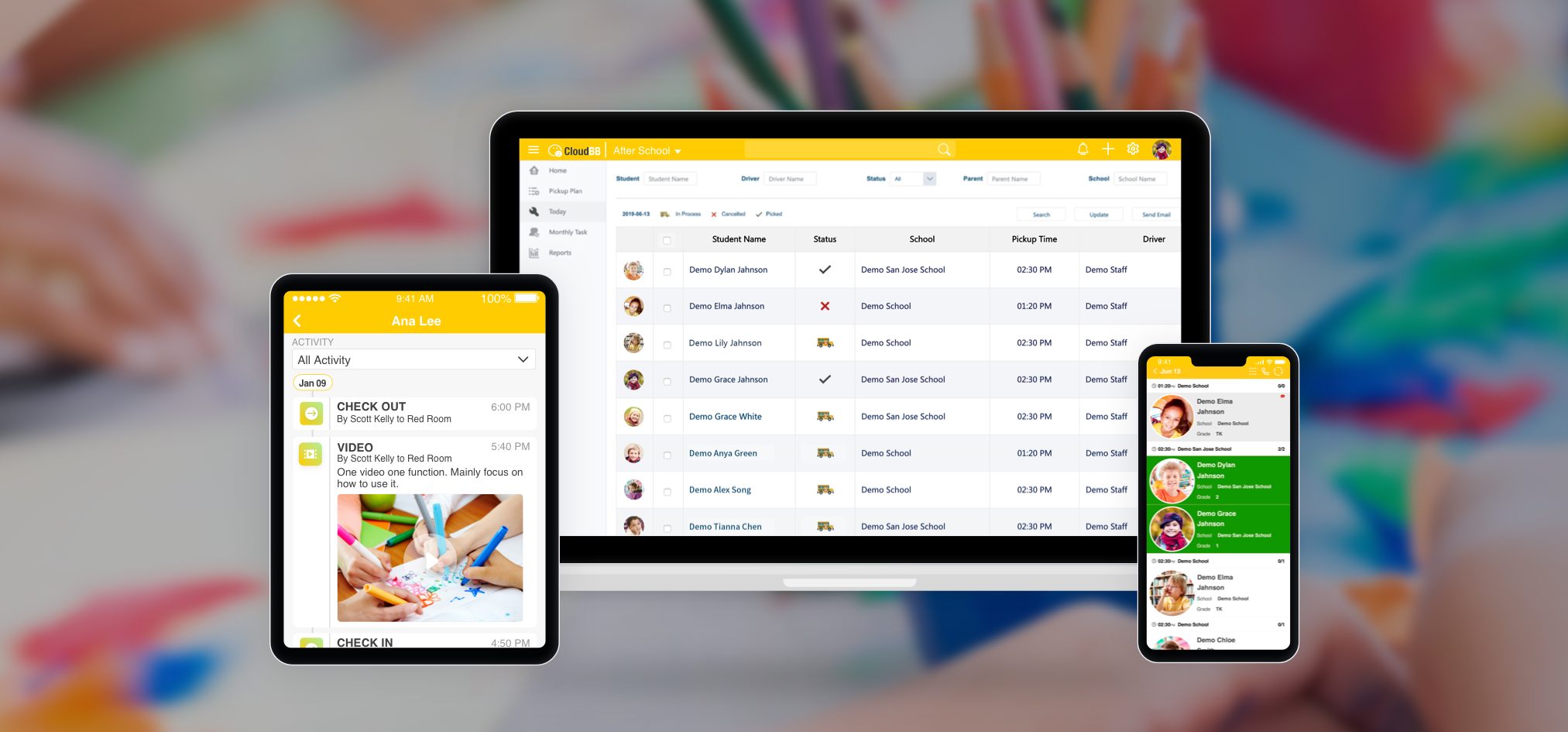 According to the Global Daycare Management Software Report, the worldwide market for Childcare Software is expected to grow at a CAGR of around 8.8% between 2019 and 2026. This suggests that more and more people will rely on advanced software to eliminate the gap between after schools and their workflow processes while the market for child care also wins an extremely promising future. Precisely, CloudBB has been aware of the importance of developing such kind of childcare management software long before. It keeps updating to enrich itself and until now, it takes pride in a series of brilliant features as follows: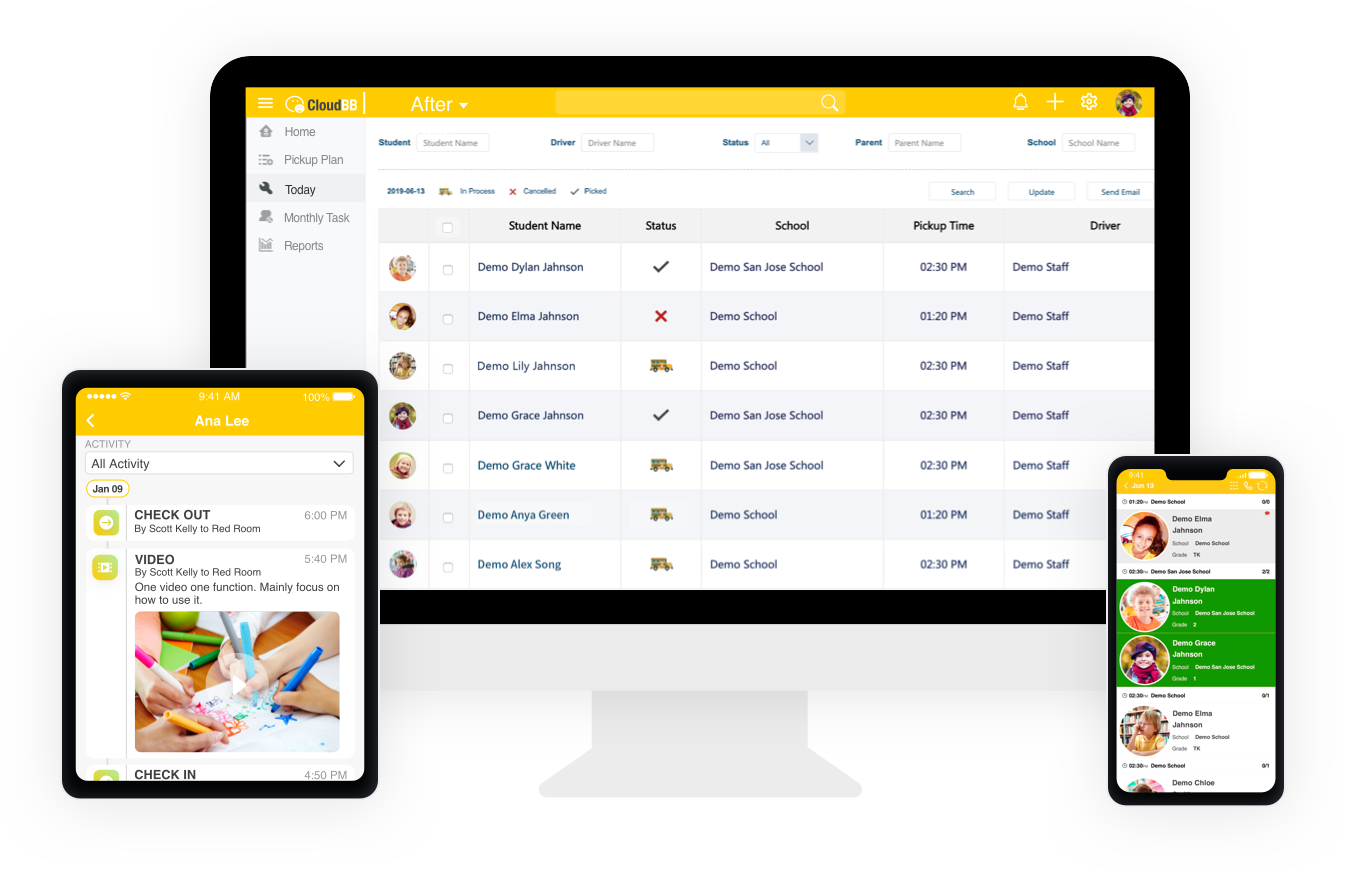 CloudBB- Best Childcare Management Software
Effective Online Registration Form

Secure Student Pickup System

Digital Attendance Tracking

Easy Invoicing & Daily Activities Sharing

Reliable Open House Planning
Start Free Trial
Online Registration Form
It provides an easy, efficient, reliable and secure way to capture the web visitors and convert & track them until they have enrolled. Users can build a custom web registration form flexibly including all the needed registration information ke student information, parent information, after-school programs, pickup services, tuition or any other detail. Besides, class listings can be updated in real-time based on the user's own programs so families can view the most up to date information. With CloudBB's online registration form, families can also sign up anywhere and anytime so that preschool enrollment has never been easier. Then all enrollment information will be imported into CloudBB system automatically. Minimize enrollment data entry, just focus on tracking students' enrollment stage and managing enrollment pipeline effectively.
Secure Student Pickup Management System
Safety doesn't stop after the bell rings! CloudBB boasts of its "after school pick up management" feature and has been gaining more and more popularity. Pickup function syncs pickup-info simultaneously among after-school administrators, drivers and parents. It is possible to bulk generate pickup plans for each enrolled student, specify the start time and duration of instructional periods, create monthly pickup tasks, timely update today's pickup task, get powerful reports on each driver and student and complete pickups by clicking student names on app efficiently. All these greatly improve the security and working efficiency for multi parties.
Fully Automate Invoicing Plans
CloudBB childcare online invoice system empowers users to create and manage invoices with custom items, based on daily, hourly, and pickup service charges. Users can not only set up invoicing templates to reduce the carbon footprint as well as track tuition payments, but also sync the CloudBB invoices to Quickbooks. Multiple options are available to simplify the whole invoicing process.
Parent Connection: Portal to connect families to the child's day
Using such a simple easy-to-use app, it is capable of keeping parents in the loop with their child's activities throughout the day by viewing real-time photos, videos and notes posted by teachers. If the family has multiple children, users can add all children into CloudBB and parents can switch children to view their activities. It is practical to add other family members to share child's daily activities.
All-in-One After School Management Solution
CloudBB platform is an all-in-one childcare and after school management solution that can help to manage all staff, student, family, enrollment and pickup plan data, rooms, lessons and much more for after schools and childcare centers. Multi-site reports on pickups, attendances and more can be reachable for various needs. If necessary, it also allows assigning different roles and profiles to staff.
Plan Open House to Improve Enrollment Volume
Obviously, it is ideal to use this feature to improve the enrollment potential. Plan an open house and create multiple promotion channel to promote each open house in the most fun way. Improve the enrollment potential and measure the open house ROI so users can capture more students in the enrollment waitlist. Want to get potential enrollment tracking? Of course, it definitely can!
A Customizable Platform
CloudBB delivers a customizable platform to meet each school's unique needs by renaming standard fields and customize page layouts by dragging and dropping, creating new applications and objects and automating daily work by creating workflows.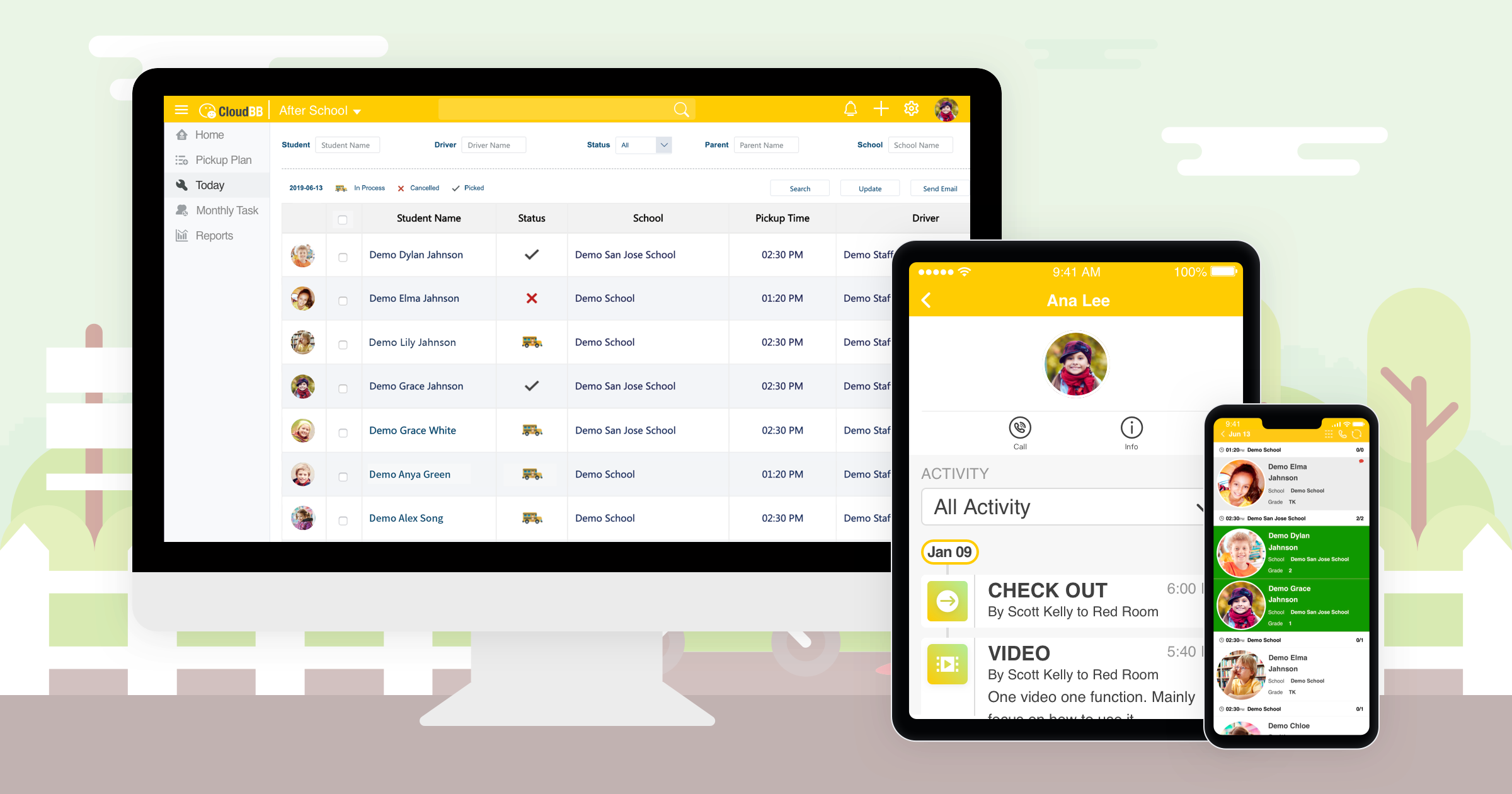 Why It Works
CloudBB childcare management software is customized to the childcare industry. It surprisingly accelerates the digital transformation of early education for the betterment of schools, parents, and drivers.
Reduce Administrative Tasks
Fruitful features are launched to eliminate handwritten forms and manual transfer of data as well as allowing updates to the information at any time. Childcare center managers can greatly benefit from high-performance database technology in the whole management process, no matter for registration, invoicing or pickup. This is conducive to saving much time so that you can focus on the success of the center.
Increase Parent Satisfaction
Custom childcare software improves parent satisfaction with advanced options to reach parents in multiple ways and make them stay connected, which extremely increases parent satisfaction.
Easy to use and manage
Every user can get started easily with no need to ask for technical support. It is no longer hard to have the personal family network all in one place. This innovative web and mobile-based applications further enhance CloudBB's market-leading suite of solutions to help users efficiently manage their facilities, address complex operational and administrative needs and provide essential communication.
Secure and organized.
All can be secure and organized as everything is backed up and easy to find. CloudBB child care software engages families in a child's learning and development while keeping each personal information secure to only for respective educator and parents/guardians. Both the privacy of children and the context of information can be organized securely.
"We are pleased to provide each user with a reliable childcare app that is easy to get, easy to use and easy to engage. CloudBB turns each process into a crucially transparent management experience. It still keeps updating with optimized functions to serve for all sizes from single-center operations to complex multinational enterprises and we hope to bring the unparalleled value to each user."" said Martin Sun, the founder of CloudBB.
To get more information, please visit https://www.cloudbb.com/.
About CloudBB
CloudBB, the leading provider of child care management software, comes with a lot of powerful features to run your daycare center, after school and summer camp in an innovative and efficient way.
Student Pickup Management System - a reliable pickup management system that provides the much-needed transparency and security to bridge the gap between student whereabouts, staff members, drivers and parents.
Childcare Management Software & App - the most comprehensive all-in-one integrated solution to streamline every process and provide the crucial transparency for everyone involved beginning with initial enrollment, to the pickup process of students, to sign in-out, to parent connect, and to the final invoicing stage.
More and more after school and childcare programs adopt CloudBB as the ultimate software to handle many of the logistical nightmares and improve childcare management.